---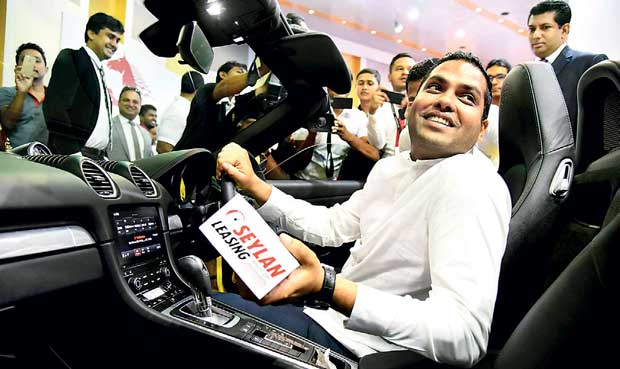 Telecommunication and Digital Infrastructure Minister Harin Fernando trying out a brand new sports car at the Seylan Colombo Motor Show 2017, organized by Asia Exhibition and Conventions together with Seylan Bank. Minister Fernando was the chief guest at the opening of the 3-day event held at Sirimavo Bandaranaike Memorial Exhibition Centre.
Pic By Kithsiri De Mel
By Supun Dias
The Seylan Colombo Motor Show, one of the largest automotive events in Sri Lanka kicked off yesterday at the Sirimavo Bandaranaike Memorial Exhibition Centre in Colombo with an expected crowd turnover exceeding the 100,000 mark for the 3-day event. The exhibition will feature some of the newest and the hottest vehicles that an enthusiast wants to check out as well as vintage vehicles, and even the best modified vehicles.

Speaking at the inauguration of the event, Minister of Telecommunication and Digital Infrastructure Harin Fernando, "It will be great opportunity for the young generation to come and witness one of the best motor shows that one could ask for.
I would also like to thank Seylan Bank and Asia Exhibition and Conventions for organizing this mega event. Such shows are very important for the automobile industry as it showcases everyone the best products that is available in the market and it is a boost for the industry as a whole as well."

Chairman of Asia Exhibition Tyronne Chandrasekara said, "We are proud to get involved in organizing this massive motor show. This exhibition is very important to the automobile industry as we are very proud to be a part of it."

Delvin Pereira, Deputy General Manager – Consumer Finance said, "I would like to invite everyone to visit the Seylan Motor Show and we are expecting a record public turnout this time. You will also be able to visit our stalls where we will provide you with on the spot, tailor-made leasing/financing facilities as we intend to build long lasting relationships with our customers."

Over the years the Seylan Colombo Motor Show has gained a reputation of being one of the most sought after automotive events by bringing together global manufacturers, distributors, industry specialists, key-buyers as well as the affluent motor enthusiasts all under one roof. It is further viewed as an ideal platform for the motor industry suppliers to showcase their latest products
and services.

The event features a wider variety of stalls and exhibitors along with a motor car show, 4x4 off road vehicles show, vintage car show, Volkswagen and Mini Minor car show, boats and water sports vehicles show, commercial vehicles and custom-built vehicles, body kits and accessories, car audio, video and security systems.