---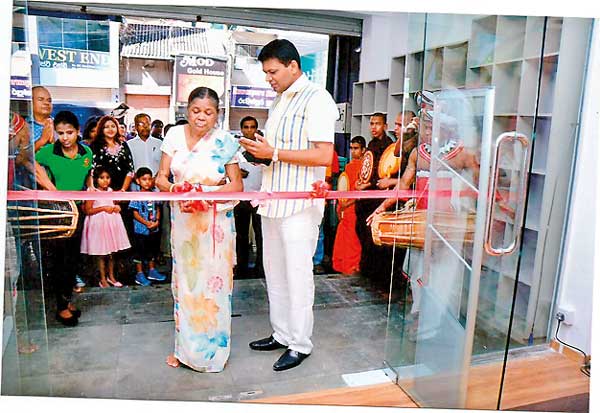 From left: Vimala Algoda and Saluki Fashion Chairman Janaka Algoda
Saluki, the newest gem which adds shine to the world of fashion, opened its first-ever fashion store with an exquisite and extensive collection in the world historic gem city, Ratnapura.
The Saluki Fashion brand brings the latest fashion trends to give its discerning customers to select the best outfit which suits their needs.

Saluki Fashion takes pride in offering complete line for women, men and kids with styles ranging from casual wear, office wear with an exclusive range of party wear to the latest trends from around the world. Saluki presents an array of ladies blouses, trousers, shorts, jewellery, handbags and many more accessories. An exclusive collection of designer sarees, designer salwarkameez and dresses is sure to make the fashion world more colourful.

Saluki is also an ideal place to buy a vast range of bridal, designer wear and office wear sarees with a lot of different options available to choose from.
Speaking at the launch of Saluki Fashion, its Chairman Janakaa lgod said, "Our exclusive range of designer sarees, kurta dress materials and ready-to-wear designer salwarkameez and dresses are sure to mesmerize our shoppers every time they visit us. We aim to make quality and eye-catching clothing available to our customers at affordable prices."

As part of its ambitious plans to make a mark in the industry, Saluki is striving to establish itself as a household name in the local fashion industry thereby providing its loyal customers the highest quality, exclusive and diverse clothing options and unmatched customer service.

Saluki aims to deliver beautiful and high-quality clothing to its customers and believes that its hard work, dedication and perseverance will earn them the distinction of becoming the most preferred fashion store as well as saree showroom in Sri Lanka.