---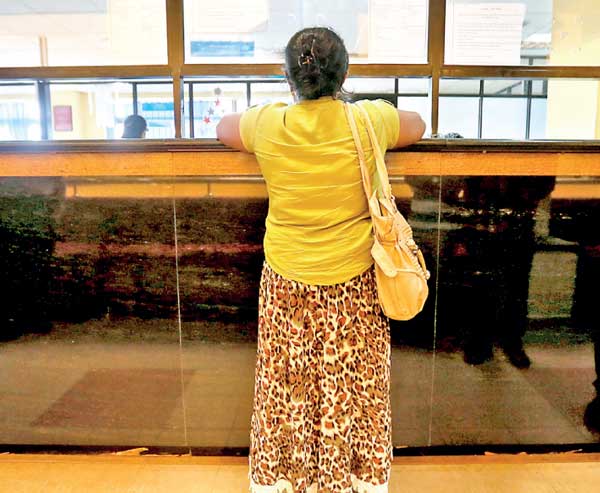 A woman waits to submit her passport to an officer at Sri Lanka's Foreign Employment Bureau in Colombo
REUTERS: Sri Lanka will gradually stop sending house maids abroad, mainly to the Middle East, due to rights abuses, social costs and a local labour shortage, government spokesman Rajitha Senaratne said yesterday.

Sri Lanka's expatriate workers, mainly house maids and unskilled labourers, send back remittances - the island nation's main foreign exchange earner - that help earn around $7 billion a year for the $82.2 billion economy.
Senaratne said President Maithripala Sirisena had appointed a committee to study strategies to reduce the numbers gradually and finally stop sending maids abroad.
"We want to discourage the house maids category in the foreign employment because the social cost is very high," he told Reuters.

Human rights abuses and social costs due to rapes, drug addiction and child abuse in many families of house maids, and labour shortage locally, have prompted the government to take such a decision, he said.

The total number of departures for foreign employment declined by 12.4 percent last year to 263,307, partly due to the slowdown of economic activities in the Middle East.
Sri Lanka is already encouraging sending skilled male workers abroad instead of low-skilled females and house maids.

In 2013, around 1,650 Sri Lankan house maids complained of being physically and sexually abused by their employers mainly in the Middle East, the latest data from the Foreign Employment Bureau showed.

In 2013, the Saudis beheaded a young Sri Lankan housemaid for killing an infant left in her care, rejecting repeated appeals by the Indian Ocean island against her death sentence. Colombo recalled its ambassador from Riyadh in protest.

After their Sri Lankan maid complained of too much work in 2010, a Saudi couple tortured her by hammering 24 nails into her hands, legs and forehead. The maid returned home.

Last year, however, Saudi authorities reduced a Sri Lankan maid's sentence for adultery from death by stoning to a three-year jail term after an appeal.