---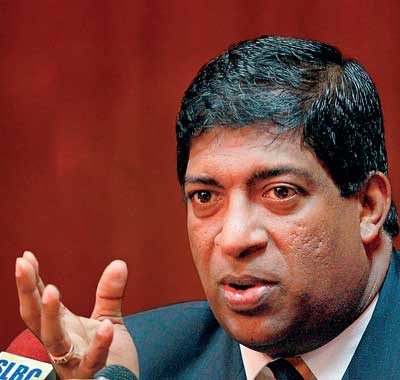 The budget presented in November 2015 created new vistas for private sector investments with emphasis of "Public- private partnerships", Finance Minister Ravi Karunanayake said. "It is not easy to bring in reform. Reform options have to be presented in a manner to be accepted by the people and it is a process.
I am proud to state that the budget proposals presented and approved by the parliament consisted of over 450; where as the previous budget of 2015 was limited to 62," added the Minister addressing 19th Asia Investment Conference in Hong Kong yesterday. Attended by prominent political, economic, financial, and academic figures, the conference attracted institutional and hedge fund investors as well as high-net-worth individuals and business leaders who seek access to influential ideas and actionable advice.
Minister Karunanayake further said that tourism sector is booming and the need for more hotels and accommodation for visitors keeps on enhancing and as such the budget provided many opportunities, benefits and concessions for tourism related investments. "Whilst addressing the decline in tax revenue over the years we provided immense relief to income tax payers bringing down the rate to 15 percent for most of the economic sub sectors excluding certain limited enterprises.
The personal taxation threshold had been extended providing much needed relief. "We had laid tremendous emphasis on the development of Micro, Small and Medium enterprises and the concessions and opportunities granted extend from finance, venture capital and marketing assistance. "Agriculture is the foremost enterprise of Sri Lankans and we have amended the granting of fertilizer subsidies offered to farmers providing further benefits and also committed to assist the fruit and vegetable industries. "Our proposals for public infra structure development in Education, Health and Housing depict a huge increase but the principle of "Public, private partnership" will be adopted at all times.
"Capital markets are an untapped resource in Sri Lanka. Demutualization of the "Colombo Stock Exchange" will be explored to develop capital markets in Sri Lanka to ensure vibrancy and dynamism of the sector. The potential of growth of capital markets in Sri Lanka could be termed as immense. "Our focused attention to eradicate corruption provides the ideal backdrop for new investors to visit Sri Lanka and seek the cascading benefits of good governance and transparency prevalent." The Minister thanked the Chairman of the Conference and the organizers for their effort in organizing the grand conference and said he looks forward to be a participant at future conferences.