---
Trade pact scope to be much wider than initially expected
Joint feasibility study on FTA by two countries nearing completion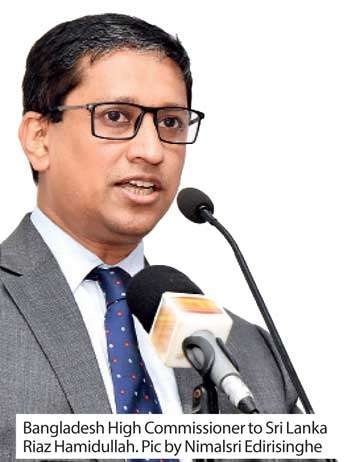 By Nishel Fernando
Negotiations on the proposed Sri Lanka-Bangladesh Free Trade Agreement are likely to commence by the end of next month, as the joint feasibility study on the FTA is nearing completion, Bangladesh High Commissioner to Sri Lanka Riaz Hamidullah said.

Addressing a seminar organised by the Shippers' Academy Colombo in collaboration with the Bangladesh High Commission in Sri Lanka last Friday, Hamidullah said the scope of the agreement could be much wider than initially anticipated, which could potentially become an economic partnership agreement.

Bangladesh has been attempting to ink an FTA with Sri Lanka since 2013 and the Bangladeshi Prime Minister Sheikh Hasina and Sri Lankan President Maithripala Sirisena had earlier decided to sign the FTA in 2017, during President Sirisena's visit to Bangladesh.

However, FTA negotiations are yet to be commenced despite several joint working group meetings between the two countries.

Sri Lanka and Bangladesh earlier this year commenced a joint feasibility study for a potential FTA between the two countries.

The committee comprising of trade experts from both countries has been tasked to look into all potential areas, which includes goods, services, investments and economic cooperation.

Bangladesh Commerce and Industries Minister Tofail Ahmed recently blamed Sri Lankan counterparts for the slow progress pertaining to the FTA.
Hamidullah noted that Bangladesh could assist Sri Lanka to realise its aspiration of becoming the maritime and logistics hub of the Indian Ocean given the Bangladesh's location in Bay of Bengal combined with its vast economic potential.

He noted that the cost of transportation remains high for trade within the region. He pointed out that transporting goods is cheaper to Brazil from Bangladesh than to Pakistan. Hence, he stressed that cost of transportation is a major obstacle for enhancing intra-regional trade.

He noted that Colombo port could facilitate trade between Bangladesh and Western India.

Hamidullah also said the two countries need to review the current shipping routes, which are based on point-to-point cargo movement and suggested that two countries should re-commence coastal passenger shipping services to mobilise movement.

The CEO of Shippers' Academy Colombo Rohan Masakorala said that the global CEO of Marsek, the largest container ship and supply vessel operator is expected to visit Bangladesh to participate in the South Asia Maritime & logistic Forum 2018, which is to be held in Dhaka.

Masakorala noted that a global CEO of Marsek is yet to visit Sri Lanka, and pointed out that the visit of Marsek's CEO signifies the global shipping giant's recognition of Bangladesh's vast economic potential.