---
As the Fourth Industrial Revolution (4IR) is set to disrupt Sri Lanka's major business sectors, including the apparel industry over the next five-year period, a leading academic asserted that formulation of a roadmap to face the disruptions from the 4IR must be the top priority of the next president. "Unfortunately, for Sri Lanka unlike India, we are not ready to face the 4IR.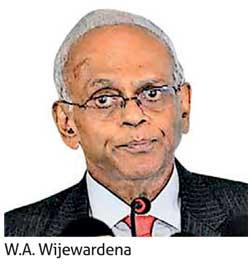 There has not been any roadmap formulated by the government to prepare us for the 4IR. The apparel industry is going to be impacted heavily from the 4IR," former Central Bank Deputy Governor and thought leader W.A. Wijewardena cautioned. He made these remarks addressing the closing session of South Asia Economic Summit 2019, held in Colombo, last week.
He noted that in Sri Lanka, the apparel industry employs 300,000 people directly and another 500,000
people indirectly.

Unless Sri Lanka develops such a roadmap to prepare itself for the 4IR, Wijewardena warned that the country could potentially face a large-scale social instability, triggered by the job losses arising from the disruption from the 4IR in the apparel industry.
He pointed out that certain apparel manufacturing activities have already been lured back to Europe and North America by automation while some of the apparel manufacturing activities are being relocated to low-cost destinations such as Vietnam and Bangladesh.

Emphasising on innovation, Wijewardena suggested that a pool of innovators should be set up under a comprehensive roadmap to drive Sri Lanka to the 4IR.

"We must have a critical pool of innovators who will take us to the 4IR and that critical pool of innovators has to be established in Sri Lanka with the support of the private sector. This has to be the topmost priority for the presidential hopefuls, who are seeking the position in the 2019 presidential elections," he said.

Wijewardena pointed out that only a handful of local firms such as MAS and Lanka Harness have been successful in positioning themselves to face the future disruptions from the 4IR.
He further stressed that re-education, re-skilling and communication would be crucial for employees in the potentially disreputable sectors to become partners of the 4IR.

Unless timely actions are taken, Wijewardena warned that Sri Lanka will have a major disruption in the economy and will lag behind other South Asian nations such as the Maldives and Bangladesh.

The apparel industry remains the primary merchandise export foreign exchange earner for Sri Lanka, accounting for over 40 percent of the total merchandise exports and almost 50 percent of industrial products exports.

Sri Lanka's apparel exports in 2018 exceeded US $ 5 billion with the EU, United Kingdom and United States being the key apparel export destinations. (NF)