---
The names of Central Bank officials who are sabotaging the rupee will be revealed in the coming days, after which the currency will strengthen in the coming months, Finance Minister Ravi Karunanayake said recently. "We are very confident that the economic system is growing in a manner, despite the fact that there is an orchestrated manipulated effort of trying to show that there is a problem by two or three people in the Central Bank, who I will name in the next couple of days," he said. He added that these are stooges of former Central Bank Governor Ajit Nivard Cabraal.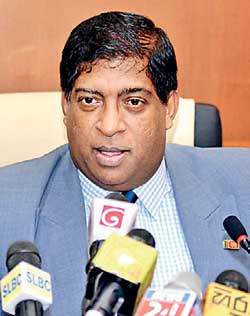 Karunanayake is currently attempting to take major functions of the Central Bank under his wing.
In recent weeks, he has repeatedly said that these officials are sabotaging to bust the rupee.
"We are working to protect the rupee. Give us two months. We won't be doing artificial floats, despite the volatility in the world economy," he said.
Karunanayake's past projections on the rupee had not been very accurate.
As reported on Mirror Business recently, senior economists are sceptical of a stable rupee in 2017.
However, Karunanayake said that given how well fiscal policy has been conducted in 2016, the puhlic should have faith in what he says.
"When the President, the Prime Minister or the Finance Minister says something that is basically the country's policy. We don't want that being hijacked or distorted," he further added. He had also said that the Central Bank, on the last week of Cabraal's governorship, had released Rs.13 billion in funds for political purposes, and said that he had CCTV footage of the crime. The Central Bank recently said that it would be investigating this claim. (CW)