---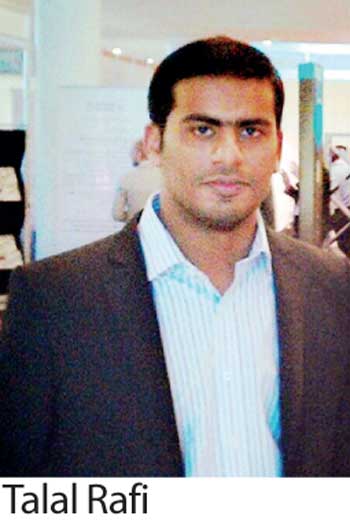 Rafi Group Pvt Ltd which is founded by and comprising of three brothers who have made strides and great endeavours in the world of business, celebrates 2 years in Sri Lanka.

In a press release, the Rafi Brothers announced their happiness and delight of being able to portray the company as a family owned entity in their motherland.
Talal Rafi the eldest of the brothers was educated at Colombo International School. A Graduate of City University UK, he was awarded a First Class Honours Degree in Business Management. He served as a Marketing Manager for a London based firm for 4 years, providing strategic direction to improve the company's brand positioning and pricing strategies. He was accepted into a competitive training programme organised by the Bank of America and the Royal Bank of Scotland.
Currently Talal is a Director at Rafi Group (Pvt) Ltd which specializes in branding, social media strategy and communications and consists of several business units including a branding company called T3Follow, a coconut water brand venture called Tropiconut, and a recruitment agency called JobTalks Recruitment.
He is also a Managing Director at Nanjing and You Trading Co Limited, the exclusive national distributor for China's largest state owned building materials company, China National Building Materials Group.

Thasim Rafi was educated at Asian International School and holds a Degree in Business Management from the University of East London. At present, he is a Director of Rafi Group Pvt Ltd and prior to starting to starting T3Follow Social Media Management Company and Tropiconut Coconut Water with his brothers he worked in the City of London for a leading Electronic Cigarette company and after coming back from the UK he worked at Union Assurance as a Corporate Sales Manager for 2 years. Thasim was also part of a leading management trainee programme in London and was trained at the Bank of America and RBS. He is also a member of Fight Cancer Sri Lanka, an initiative started last year to ensure that cancer patients get what they deserve.

Talib Rafi the youngest of the three was educated at Colombo International School. Like his brothers, he is a Director of Rafi Group (Pvt) Ltd. He is instrumental in social media management given his skills in graphic designing and company branding. Talib currently has ambitions to leave to Malaysia to pursue a degree in Architecture.