---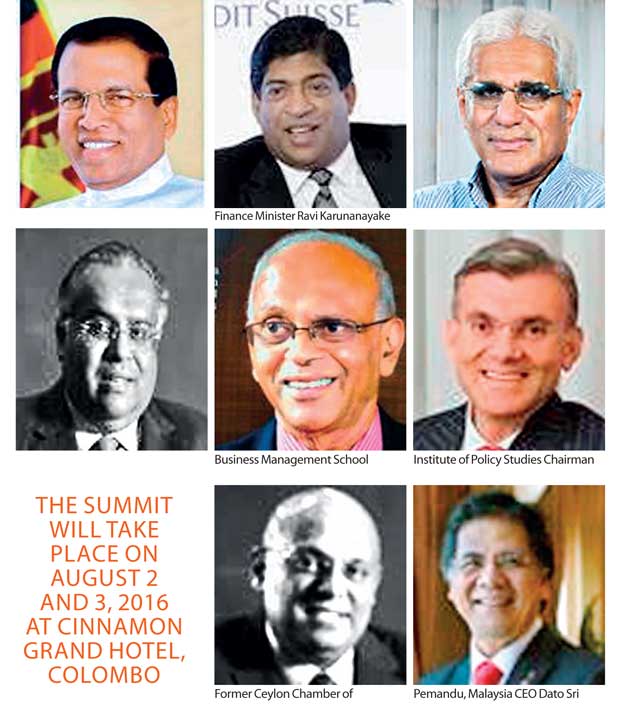 President Maithripala Sirisena will inaugurate the Sri Lanka Economic Summit 2016 as the chief guest and is set to address the audience thus setting the tone for a vital two-day summit, which will discuss the country's economy in length and depth.
Soon after the inauguration, Finance Minister Ravi Karunanayake and Central Bank Governor, Dr. Indrajit Coomaraswamy will deliver the keynote speeches at the session one of the event, which will discuss the title of 'Accelerating Growth, Pushing for Performance'.
The duo's speeches will be followed by a panel discussion with the participation of another three eminent resource persons in the likes Pemandu, Malaysia CEO Dato Sri Idris Jala, former Central Bank Deputy Governor W.A. Wijewardena and IPS Chairman Professor Razeen Sally.
Ceylon Chamber of Commerce Chairperson Samantha Ranatunga will deliver the welcome address of the event, while former Chairperson Suresh Shah will moderate the panel discussion of the first session. The summit will take place on August 2 and 3, 2016 at Cinnamon Grand Hotel, Colombo.
The annual event, which attracted 450 top executives as participants during last year, falls in line with some of the chamber's key principals, which it stands for, such as creating a market-oriented and a private-sector led economy, an economy based on competitiveness , driven by exports, attracting quality foreign direct investments (FDIs) and making Sri Lanka a preferred investment destination.