---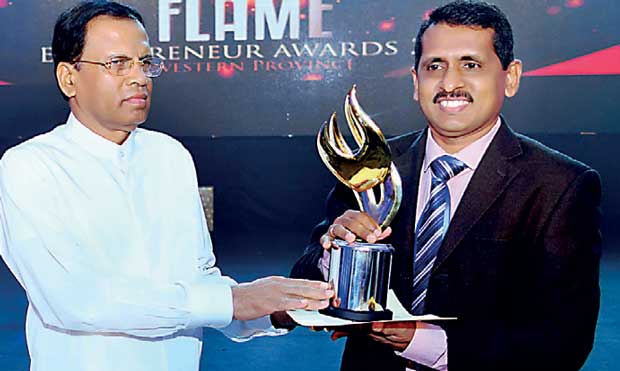 President Maithripala Sirisena conferring the award on Oleema Industries Chairman, S.K.Ajith Priyadarshana
Oleema Industries (Pvt) Ltd, which is the forerunner in the production of safety shoes has won the Excellence Award at Flame - 2016, organized by the Western Provincial Council to recognize the entrepreneurs. The company was awarded under the section safety shoes and leather productions.
President Maithripala Sirisena conferred the award on S.K.Ajith Priyadarshana, the Chairman of Oleema Industries at the Colombo Galleface Hotel recently.
Their quality line of products consist of rubber gum boots, safety shoes, fancy shoes, canvas shoes, adhesives and safety clothing and accessories for the industrial workers. The company is located at Dompe, Dekatana, Pelahela and works with the mission to secure quality by incorporating high technology and local natural rubber as ingredient.
"This victory we have garnered within a short time span as of 8 years since the inception is a token of encouragement. We also could win 'Shilpa' Golden award sometime back. We are willing to obtain the ISO 9001:2015 QMS certificate. The dedication of the staff and the efforts to maintain the international quality standards have been the reason for this victory. Though the entry into the field was compromising, the knowledge I gained in respect of polymer technology from the University of Moratuwa and the training from the National institute of Business Management were of immense support", added Priyadarshana.