---
NSBM Green University Town (NSBM) announced its formal MoU sign up with MTI Consulting for its Industry Partnership Programme.

The programme is led and organized by the School of Business at NSBM together with the Career Guidance Unit.

NSBM 'Industry Partnership Programme' is designed to optimize synergies among the industry partners and NSBM in relation to entry level talent acquisition (internship / training), employer brand building, knowledge sharing, corporate brand building, special projects, incubation / entrepreneurship development and talent acquisition of fresh graduates.

All undergraduate programs of NSBM are designed to enable the students to start the much-needed industry exposure, on full time basis, from the end of 2nd year of study onwards where lectures for 3rd and 4th years are conducted only on weekends. This is a unique feature of NSBM which assures the employability of graduates.

Dr. E. A. Weerasinghe, the Vice Chancellor of NSBM speaking at the signing ceremony said "… we are committed to ensure the employability of our graduatesand an Industry Partnership Programme of this nature is a mutually benefiting arrangement for both parties".

Jananga Piyadasa, Business Analyst of MTI Consulting added "… MTI has many success stories of hiring undergraduates and fresh graduates and nurturing them to unearth their hidden talents. We hope to provide challenging business consulting opportunities to NSBM'sundergraduates and fresh graduates in future".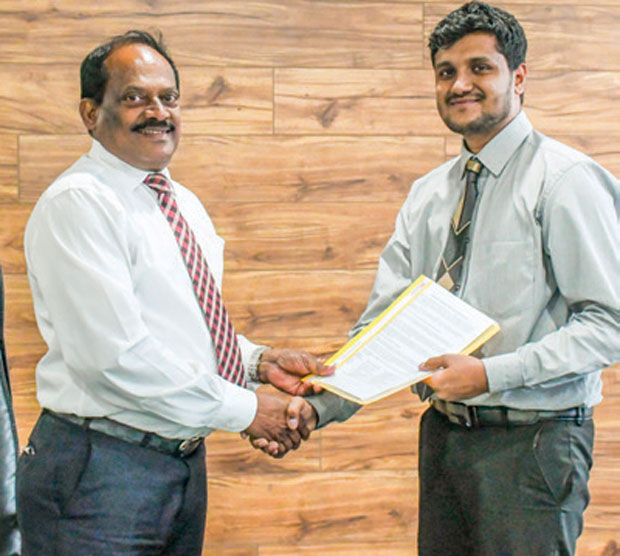 Dr. E. A. Weerasinghe, and Jananga Piyadasa exchanging the signed MoUs

NSBM Green University Town is a fully pledged University Town built on a 26 acres premise at Homagama. It has over 9,000 on-campus studentsat the momentwhich will record the highest student population among the state and private universities by the end of year 2018. NSBM offers UGC approved and foreign undergraduate and post-graduate programmes in three streams namely Business Management, Computing and Engineering.

MTI Consulting is an internationally-networked boutique management consultancy, offering advisory services in strategy, strategic planning, corporate re-structuring, process re-engineering, performance management, international market entry, feasibility studies, due diligence, corporate finance, M&A, HR, executive search / head hunting, marketing strategy, branding and market research. Since the inception in 1997, MTI has worked on over 550 assignments in over 41 countries, covering a diverse range of industries, clients and business challenges.