---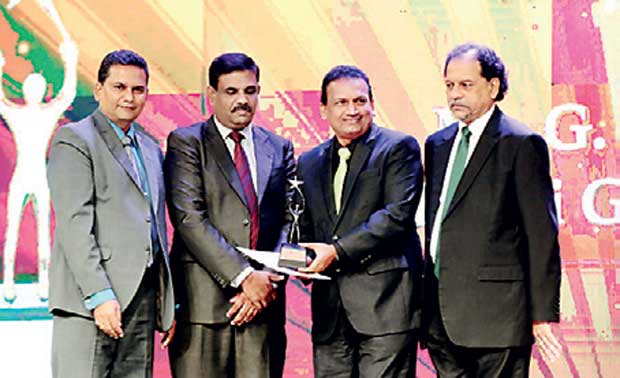 Minuki Group of Companies are pioneers of trusted total solution providers with the noble and diligent service to the footwear industry in Sri Lanka, was presented the National Silver Award by President Mithripala Sirisena at the "SLCSMI Industrial Excellence Awards – 2016" organized by the Sri Lanka Chamber of Small & Medium Industries.
Also G. Mahendra Perera, Managing Director of Minuki Group of Companies won the National Bronze Award and the Provincial Bronze Award at the "Sri Lankan Entrepreneur of the Year 2016" (large category) organized by the Federation of Chambers of Commerce and Industry of Sri Lanka. Also a sister company of the Minuki Group, Selakta International (Pvt) Ltd emerged as the winners in Bronze award at Footwear & Leather sector at the "Export Awards – 2016" organized by the National Chamber of Exporters Sri Lanka. Minuki Group of Companies is leading raw materials & machinery suppliers for the footwear industry in Sri Lanka and manufacturers of the quality footwear & footwear components for the export market. Four companies engaged with the Minuki Group. Selakta International (Pvt) Ltd is a BOI-approved company that Export Footwear & Footwear component to Australia, Denmark, United Estate and United Arab Emirates. Kalro International (Pvt) Limited was established under the guidance of Ministry of Industry to meet with the gap of high quality footwear outsoles in Footwear Industry in Sri Lanka. Minuki Trading Co., (Pvt) Ltd imports and supplies high quality footwear raw materials & accessories for the large, medium & small scale industries with the strong island wide distribution network. Shoe Fashion (Pvt) Ltd, is a large format Retail outlet with ultramodern facilities for its customers where they can enjoy a real family shopping experience under comfort in a five-storey showroom located in Kalutara town.
The Chairman of the Minuki Group, Mahendra Perera believes that the company's vision of supplying the modern footwear and accessories for the local and foreign customers by identifying their requirements. He wishes to extend his gratitude with thanks for all the stake holders, customers and staff for their contribution to this success and victory. Also The management of the group and he wishes all Sri Lankans a joyful and prosperous new year 2017 that will be fruitful for them and the group both.