---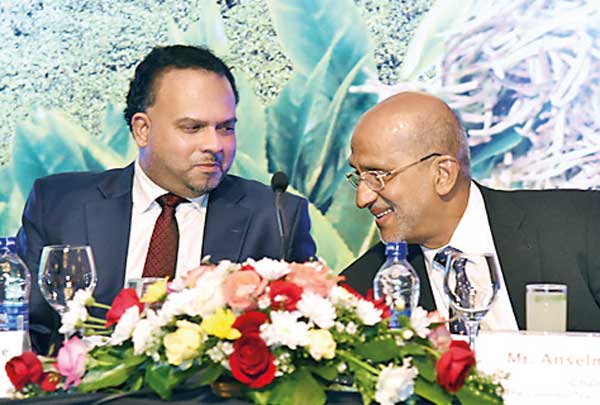 Plantation Industries Minister Navin Dissanayake and Colombo Tea Traders Association (CTTA) Chairman Anselm Perera in conversation at the AGM.
""By Chandeepa Wettasinghe The tea hub concept, which received support during the 2016 budget , wil l requ ir e resear ch before any decision is taken, Plantation Industries Minister Navin Dissanayake said last week at the Colombo Tea Traders Association (CTTA) AGM.
"The tea hub needs its risk to returns weighed," Dissanayake said. He noted that the current claims of the pro-tea hub camp cannot be considered as the full picture if there is any truth to the claims of those who are opposing it, and called for a proper independent study in order to sway policymakers who are higher up in the government.
"There are certain policy matters which are in your hands. Please, if you guys can go to some policy level, get a break somewhere and the industry heads hammer these issues out, it will make my job as an implementer easier. One such obvious policy difference is the hub or blending," he said. The comments came after CTTA Chairman Anselm Perera requested the minister to implement the tea hub concept, as personal agendas, and the failure to look at it from a macro perspective have sabotaged the project. "The smallholder sector and some RPCs fear that auction prices will be adversely affected if the hub concept is approved," he said. He proposed that the current scenario of allowing limited tea imports to be blended be expanded to local teas with higher levels of blending for a limited period of time, as a pilot project.
"Of course, this should be strictly regulated, and confined to a location that is easily controllable, with the Tea Board co-authoring the project with a very high level of discipline, because if allowed, sometimes we know, our exporters also do things that are not good," he added. Perera said that blending should become flexible to allow greater value-added production, if the project is successful. His comments come while simultaneously calling for a revival of 'Pure Ceylon Tea' during the 150th anniversary of tea production in Sri Lanka. Poor production quality of teas, and blending in foreign countries, have caused damage to the Pure Ceylon Tea brand.Dissanayake said that the Tea Board cannot regulate a Tea Hub in a separate zone because the Tea Board is not a policeman.