---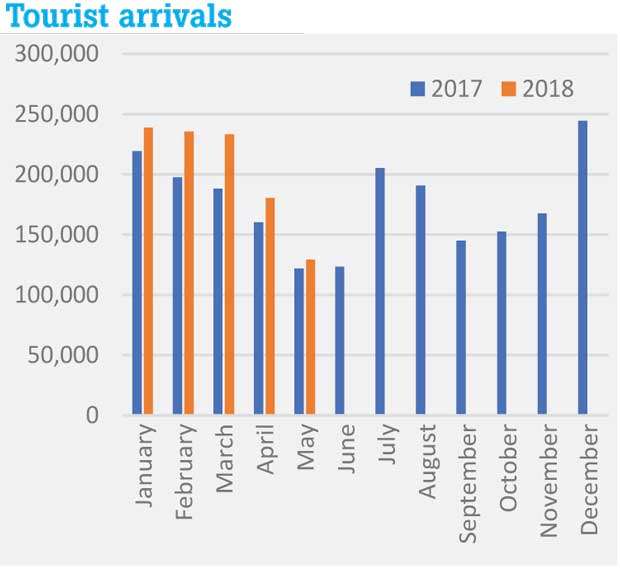 Tourist arrivals to Sri Lanka in May rose 6.2 percent year-on-year (YoY) to 129, 466, recording the lowest arrival number so far this year.

For the first five months of the year, the cumulative arrivals rose 14.7 percent YoY to 1, 017, 819.

The largest source market for Sri Lanka during May was India, followed by China, United Kingdom, Germany and Australia.

By region, Asia and Pacific continued to be the largest source of tourist traffic with 65 percent of the total traffic received in May.

Europe accounted for 27 percent of the total traffic, America 6 percent, Middle East 2 percent and Africa 0.5 percent.
Arrivals from North East Asia, which is led by China and Japan rose 5.76 percent YoY to 83, 924. Chinese arrivals however fell 7.52 percent YoY to 17, 103.
Tourists from Australia during May rose 28.07 percent YoY to 4, 873.

South Asian arrivals led by India and Maldives rose 12.5 percent YoY 49, 173. Tourists from India increased 23.14 percent YoY42, 073.

Total tourist arrivals from Europe rose 8.58 percent YoY to 35, 031. Tourists from the United Kingdom rose 9.59 percent YoY to 9, 337 while arrivals from Germany rose 8.74 percent YoY to 6. 906.

Tourist arrivals from Eastern European countries led by Russia increased 3.24 percent YoY to 4, 813.

The only region to record a negative growth was the Middle East as mid-May saw the beginning of the fasting period of Ramadan.

As a result arrivals from Middle East fell 22.03 percent YoY to 1, 954.

Sri Lanka achieved 2.1 million tourists in 2017 despite the partial closure of the country's main airport for about three months. The floods and the dengue epidemic also contributed to the lower than expected arrivals. The government aims to attract three million tourists this year