---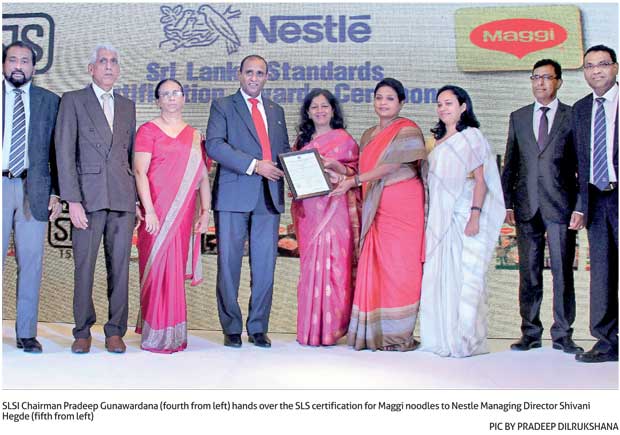 By Harshana Sellahewa
Nestle Lanka's popular 'Maggi' noodles range was awarded the SLS certification by the Sri Lanka Standards Institution (SLSI) at an award ceremony held this week.
Maggie's entire noodle range, including Maggi Chicken, Curry, Daiya, Tikiri and Double Pack noodles as well as Maggi Devilled Chilli Chicken and Spicy Blast noodles, is now SLS certified.

The company reaffirmed that Maggi products were free of MSG and traces of lead and that Maggi noodles are manufactured at Nestle's state-of-the-art production facility in Kurunegala, where it follows the strictest quality control measures, stringent product hygiene and food safety standards, through quality checks and comprehensive testing, in accordance with the local and international food safety laws, at each stage of the manufacturing process.

The SLSI is the national standards body in Sri Lanka and is a member of the International Organisation for Standardisation (ISO). An SLS certification signifies that a product is manufactured in compliance with Sri Lanka Standards specifications and can be purchased with an assurance of high quality. Continuous compliance is assured by regularly monitoring the company's quality assurance system via audits and product testing.

Speaking at the ceremony, SLSI Chairman Pradeep Gunawardana said, "I would like to offer my heartfelt congratulations to Nestle for successfully obtaining the SLS certification for its Maggi noodle portfolio. The SLS product certification mark is a symbol of quality, with the product being certified by an independent government body. By achieving this certification, Maggi has gained a label of recognition for complying with quality management standards."

Also speaking at the ceremony, Nestle Managing Director Shivani Hegde stated, "At Nestle, quality and safety have always been non-negotiable priorities. These apply to not just our food and beverages but to all our systems and services. This SLS certification not only acknowledges our commitment to providing consumers with food and beverages of the highest quality but also marks another milestone for Nestle in living our purpose of enhancing quality of life and contributing to a healthier future."

In response to local consumer preference for more natural and familiar ingredients, Maggi has also renovated its popular chicken flavoured noodles to include eight popular spices to enhance taste. The product contains vegetables, herbs and spices traditionally used in Sri Lankan kitchens like coriander, cardamom, turmeric, cumin, black pepper, nutmeg, fenugreek and aniseed. This move is part of Maggi's 'Simply Good' initiative to inspire and offer tastier and more nutritious choices. With an overgrowing trend towards health-focused cooking, the 'Simply Good' plan will also continue to lower salt in the Maggie range.

The Maggi brand has always held the needs of its consumers close to its heart. All of its noodle products are fortified with calcium, providing consumers one-third of the recommended dietary intake for this micro-nutrient.