---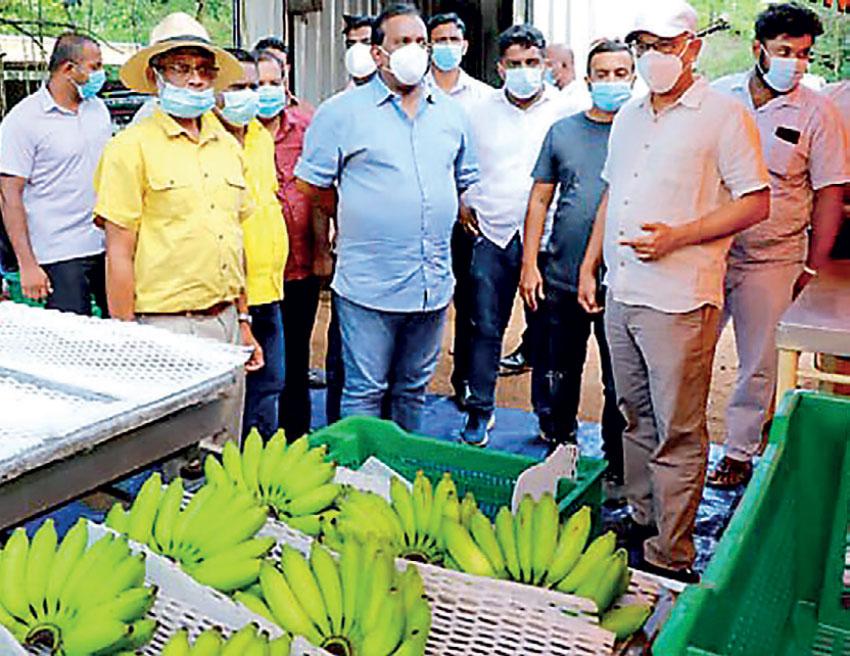 Minister Mahindananda Aluthgamage met farmers and discussed their problems taking steps to solve those problems practically
Agriculture Minister Mahindananda Aluthgamage on Saturday inspected the Ambul banana cultivation produced for the export market in Anuradhapura Rajanganaya from Yaya 1 to Yaya 5 in the Anuradhapura District.

This organic banana cultivation is carried out on 1500 acres with the participation of 700 farmers. There is high demand for Ambul bananas in the foreign market.

At present the foreign exchange earned from local fruit exports is US$ 80 million. The government aims to increase it to US$ 1 billion. To this end, steps will be taken to increase the foreign exchange earned from the export of Ambul bananas from this project.
All three major fruits, mango, pineapple and banana, are already being exported to foreign markets.
At present 70 percent of farmers in the country cultivate Ambul bananas. Increased sales, disease resistance are the reasons for this trend.

The government provides Rs. 60,000 per farmer in the first phase for necessary facilities including agricultural equipment.

The government will fully guide the farmer to sell the produce to the export market while providing all facilities including infrastructure facilities and, agricultural methods.

The Minister advised officials to provide the fertilizer through the Agrarian Services Department to the banana farmers in a timely manner and to introduce an agricultural insurance scheme for them.

The products of this project will be exported to foreign markets including Singapore from the last week of this month.

The Agriculture Modernization Project (ASMP) is financing and directing this project, which is implemented targeting the export market.