---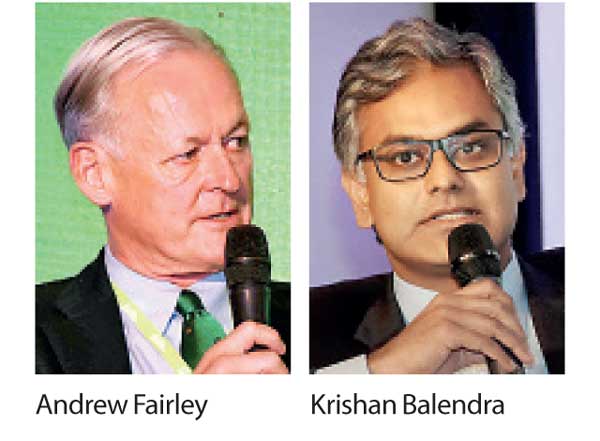 The agencies within Sri Lanka Tourism came under heavy fire from both local and international quarters this week for not conducting research and strategic planning in carrying out their operations.
"Targeted marketing with the right research is critical," John Keells Holdings PLC Leisure Sector President Krishan Balendra said at Sri Lanka Economic Summit 2016, which also saw experts from all industries heavily criticizing government policies openly.

Adding fuel to fire, Foreign Affairs Deputy Minister Dr. Harsha de Silva at the recent Oxford Business Group Report launch said that there is no tourism research conducted or a tourism strategy formulated by the government agencies.
"Our potential is huge, but I don't know if we have a coherent policy to move towards where we want. I mean, how much of beach tourism are we going to do? We need a comprehensive strategic game plan. We need to know how the market dynamics work and how to get things done," he said.
Obtaining even the smallest viable samples for research from some of Sri Lanka's big markets in Europe could run into millions of dollars, according to international academics visiting Sri Lanka.
Sri Lanka Tourism Development Authority (SLTDA) and Sri Lanka Tourism Promotions Bureau (SLTPB) Chairman Paddy Withana had said that the past regime had not conducted studies when setting a four million tourist arrival target for 2020 and said that the new 4.5 million target was formulated after studies.

However, as reported by Mirror Business recently, cracks are starting to appear within the tourism authorities over realistically achieving the newly set targets, while confusion has taken over due to different numbers being quoted by different highly-placed officials.

For example, both Tourism Development, Land and Christian Affairs Ministry Secretary Janaka Sugathadasa and Tourist Hotels Association of Sri Lanka Chairman Hiran Cooray recently said that the arrivals for 2016 would be two million, after they had stubbornly defended the government targets for most of the year.

Further, while Withana, who had revised the 2016 target down to 2.2 million from 2.5 million, had said that a new master plan showing how to achieve the 4.5 million arrivals for 2020 would be released sometime in the past few months, which is yet to materialize.

Tourism Development, Land and Christian Affairs Minister John Amaratunga meanwhile says that the arrivals would exceed 2.5 million tourists.

Mirror Business has, for the past several months, been pointing out the lack of tourism research by the government despite using billions of rupees in public and industry funding each year to conduct traditional promotions overseas. There have been no response from the government agencies.
While a few industry players conduct excellent research using internal customer data and data collected overseas, a comprehensive look into every tourist segment in Sri Lanka cannot be gleaned due to the airport authorities only allowing the government tourism agencies to conduct surveys.
The latest surveys available on the SLTDA website are exit surveys for 2006.

Tourism Australia Director Andrew Fairley speaking at the Sri Lanka Economic Summit said that research into each and every major tourism generation market is essential, with the country being positioned differently according to different market tastes.
He noted that this strategy has put Australia on track to reach its 2020 target of AUS $ 115 billion in tourism revenue from AUS $ 70 billion in 2011.
"The message in Australia about Sri Lanka is very bland. You can't keep trying to sell Sri Lankan beaches to Australians," he said.
An Rs.800 million global tourism promotion effort is set to kick off next month, which will focus on the eight experiences and 50 experience campaigns of the SLTPB, which include beaches, nature, etc.
Coincidentally or not, the international experts visiting Sri Lanka over the past three years have continuously been quoting the three words 'heritage', 'diverse' and 'compact' as the key words Sri Lanka should use in its campaigns.

Withana recently told Mirror Business that these words were the basics and too simple for a global campaign. He had admitted that no studies have been conducted to estimate the returns of the investment.

The government also has little interest in addressing adverse social impacts stemming from tourism.
Recently, Amaratunga took refuge in a response to Mirror Business by United Nations World Tourism Organisation Secretary General Dr. Taleb Rifai, who said that there are low levels of child sex tourism in Sri Lanka.

Industry experts however asserted that the issue is prevalent, especially with homosexual paedophiles arriving from European countries, which allow impoverished local families to increase their earnings.

Linking with the sentiments of Dr. de Silva, most such activities take place in beach areas, which attract 50 percent of tourists coming to Sri Lanka.
Dr. Rifai later admitted that there may be a breakdown between the crimes and the reporting of the crimes. (CW)
Pix by Kushan Pathiraj