---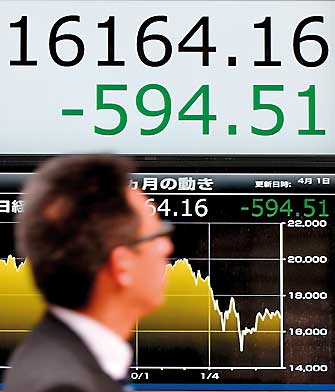 AFP - Tokyo stocks plunged yesterday to lead losses across Asian stock markets after a closely watched survey showed confidence at Japan's top manufacturers had fallen to a three-year low. A surprise jump in a gauge of Chinese manufacturing helped Shanghai post a late gain although investors were jolted by news that Standard & Poor's had lowered its credit rating outlook on China to negative. The Bank of Japan's quarterly Tankan report of 10,000 firms showed sentiment plunged in January-March to plus six from 12.
The survey marks the difference between the percentage of firms that are upbeat and those that see conditions as unfavourable. Forecasts had been for a reading of plus eight. The figures are the worst since Prime Minister Shinzo Abe put his growth drive fully into action in 2013 and will ramp up pressure on him as the economy struggles to gain traction.
Analysts also said the figures will likely push the central bank to unveil another round of monetary easing measures, on top of the huge bond-buying scheme already under way and after an unprecedented move to negative interest rates. Tokyo's Nikkei index plunged 3.6 percent, with a stronger yen also hitting exporters.
There were sharp losses across Asia, with Hong Kong down 1.3 percent and Sydney 1.6 percent lower at the close. Seoul, Singapore and Wellington were also heavily sold off. However, Shanghai ended the day with a 0.2 percent gain thanks to end-of-day buying ahead of a long holiday weekend. In early European trade London shed 1.1 percent, Frankfurt sank 1.3 percent and Paris dropped 1.2 percent. After a painful sell-off in January and February, world markets enjoyed a healthy rally in March as central banks from Asia to the Americas loosened the monetary belt to make borrowing easier.
Comments from the Federal Reserve that it was unlikely to hike interest rates again before June were also met with cheer. However, there are fears the gains cannot be sustained. "We had a great month and the question now is whether that can continue into the second quarter," Evan Lucas, a markets strategist at IG Ltd. in Melbourne, told Bloomberg News. "We are cautious. Still, the bright spot is that the U
China factories pick up News of a shock surge in the official March purchasing managers index of China's factory activity did little to support prices through most of the day until a late flurry saw the Shanghai market post a gain. The PMI showed growth for the first time since June and followed seven successive months of contraction, fuelling hopes that a long-running growth slowdown in China's economy could be easing. The reading also came after the index hit a four-and-half-year low in February.
China's economy, a vital driver of global expansion, grew 6.9 percent last year, its weakest rate in a quarter of a century and the government has targeted 6.5 percent this year. Ding Shuang, chief China economist at Standard Chartered in Hong Kong said "the expectation now is that the government won't let growth slide below the bottom line of 6.5 percent. Monetary policy will stay easy, helping business confidence".
However, China's ongoing struggle to kickstart the world's number two economy were brought back to the fore by S&P's decision to lower its outlook in the nation's debt rating to negative, warning a rebalancing was taking longer than expected.
The agency said it could downgrade government bonds this year or next if Beijing tries to keep economic growth at 6.5 percent by opening the credit floodgates and pushing investment to above 40 percent of gross domestic product. That would be "well above what we believe to be sustainable levels of 30-35 percent of GDP and among the highest ratios of rated sovereigns", which it said would weaken the economy's resilience to shocks.