---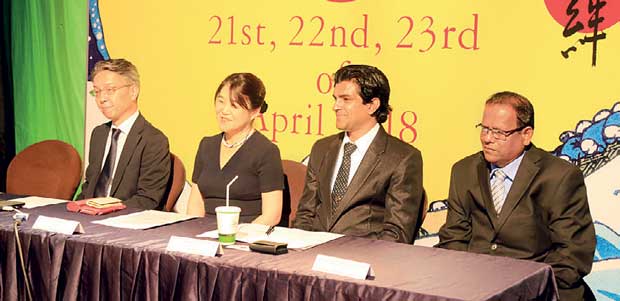 From left: Japan Sri Lanka Kizuna Association Chairperson Michiyo Furusawa, Event Producer Jun Mizutani, Chairman Ruwan Perera, and Event Consultant Asoka J. Ellagoda Kizuna International (Pvt.) Ltd
Pic by Damith Wickeremesinghe
By Zahara Zuhair
To further enhance Sri Lanka-Japan ties, the Japan- Sri Lanka Expo is scheduled to take place at the BMICH next month from 21st-23rd for the second consecutive year.

With the two countries sharing a long-standing history, Japan-Sri Lanka Kizuna Association Chairperson Michiyo Furusawa speaking at the launch event said that the event will further strengthen ties between the two countries.

"Sri Lanka and Japan have many similarities. For example, rice being the staple food, eagerness for cleanliness, and kind-hearted people. Hence, my liking for Sri Lanka has increased.

"Sri Lankans can witness Japanese technology, culture which will further strengthen ties between the two countries," she said.

On the opening day, there will be a symposium on architecture, performances by Mitsudomoe (Shamisen), West Japan Student Sumo Federation, Nyangostar drums, and film named 'Samurai Hustle Returns' to be screened.

On the second day, two films named 'Her Love Boils Bathwater' and 'In this corner of the world'are expected to be screened.
In addition, there will be performances by Kamen Joshi, Mitsudomoe, Neputa, etc.

On the final day, there will be a symposium on digital image, screening of the best picture of the film festival awards ceremony, West Japan student Sumo performance etc.

Workshops on hand fan making, painting lessons, Japanese traditional toy experience, flower arrangements, tea ceremony lessons are also included in the agenda.

Also, Neputa, a festival designated as one of the important intangible folk cultural properties of Japan and open production on the huge canvas by painter Chihiro Koshi, a contemporary artist will add more colour to the event.

Further, a haircut show will take place by one of the best beauticians in Tokyo to exhibit haircut techniques.

The organisers invite everyone to take part in the event to experience and embrace Japanese culture.