---
By Zahara Zuhair
An Indian delegation would be visiting Sri Lanka this week to discuss the Economic and Technology Cooperation Agreement (ETCA) where they would look at how the proposed trade pact can integrate investment and the services sectors for the economic benefit of both the countries, a top Indian diplomat in Colombo said.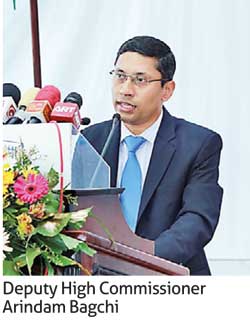 As exports have improved sharply between the two countries, Deputy High Commissioner of India to Sri Lanka Arindam Bagchi said both countries needed to look beyond exports and explore more opportunities in investments and services to integrate the two economies."I'm happy that our bilateral economic cooperation is already very diverse; it is in trade, investments, infrastructure, science and technology, agriculture, you name it we are there. We are the closest neighbours. I think we are trying to build up on those natural similarities to take it to the next level," he said at the inauguration ceremony of the Sri Lanka PLAST exhibition held at the BMICH last Friday.
Expressing his belief that India would transform into a common market which would become a reality soon as Indian Prime Minister Narendra Modi has launched numerous initiatives in India, he requested the Sri Lankan businesses to make use of it.
"I heard that many Sri Lankan exporters complain that India is not a common market, I'm happy to tell you that soon it will become a reality. Please take advantage of that. I think it will greatly help trade, investment and commerce," he said.

He said that over the last few years, particularly after the conflict in Sri Lanka, there has been focus from both governments on how to deepen the economic engagements. As a result, the bilateral trade between the two countries has increased from US $ 561 million in 1999, to over US $ 4.7 billion last year.

"I am happy to note that India is one of the top investors in Sri Lanka with more than a billion dollars as investments since 2003. I understand that US $ 2 billon of investment is to be committed by Indian companies over the next five years and we hope to see these become a reality," he said.

He added that he was pleased about the Sri Lankan corporates such as Brandix, MAS Holdings, Damro, which have invested in India, while noting that they do extremely well in India.

He also said that air connectivity has gone up between the two countries as over 150 flights operate a week from Colombo to multiple Indian destinations.

"We hope to see more destinations from Sri Lanka. We continue to remain the largest source of tourist arrivals to Sri Lanka. Colombo port is a major transportation hub for Indian related cargo, I think 70 percent of Colombo ports transits India related cargo," he noted.