---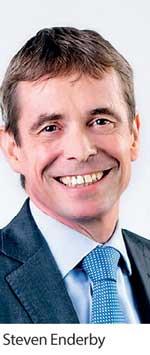 Diversified Hemas Holdings PLC has witnessed a steady recovery in its core business segments during the second quarter of 2019/2020 financial year, following subdued performance in the first quarter amid a general economic slowdown and adverse impacts of Easter Sunday attacks.

"What we have seen throughout the second quarter is a steady recovery of the business. Clearly, May and June were very difficult for us.

However, in July, August and September, we did better. Therefore, the trajectory is much better for the business now," Hemas Holdings PLC CEO Steven Enderby told Mirror Business on the sidelines of an event organised by Hemas Hospitals in Colombo last week.

He revealed that most of business segments have recovered to the levels of second quarter of 2018/2019 recording steady month-on-month growth rates since July.

"Most businesses performed equivalent to the levels of last financial year. However, we are behind in where we want to be to reach challenging targets we set for the current financial year," he said.
Hemas Holdings, which has interests in FMCG, hospitals, pharmaceuticals, hotels, travel & aviation, logistics and technology services, reported a loss of 71 cents a share or Rs.425.8 million for 1Q20, against a profit of 93 cents a share or Rs.554.3 million reported for the same period last year.The revenue for the period fell 2.3 percent year-on-year (YoY) to Rs.13.2 billion, while the gross profit fell 9.3 percent YoY to Rs.1.2 billion.

Following the Easter Sunday attacks, the group faced ethnically divisive attacks on its businesses and brands which were mainly carried out on social media.

"Stationary business through Atlas, personal care and hospitals was impacted the most. However, all of these three segments are recording a steady month-on-month recovery now," Enderby said. Meanwhile, Morison PLC, the pharmaceutical manufacturing and distribution subsidiary of Hemas group, plans to commence operations of its Rs.2.8 billion pharmaceutical manufacturing facility at Homagama in mid next year. The plant will have capacity to deliver 3 billion tablets per annum in 5-year time horizon. Enderby said Morison will explore possibilities to export pharmaceutical products to the region where Myanmar has been identified as a potential export destination.

"We will look at ramping up the capacity if there are interesting opportunities outside of Sri Lanka," he stressed.Hemas Group is eyeing the completion of de-listing of Morison PLC shares from the official list of the Colombo Stock Exchange (CSE) within next two months, as shareholders of Morison PLC approved the delisting of its voting and non-voting shares from the CSE last month.

"We have written to the SEC informing the decision the shareholders reached. I believe the process with the regulators will take around 1-2 months," Enderby said.
Following the divestment of Hemas Southern Hospital, he noted that the group is currently exploring avenues for expanding that sector.

"With regard to the hospital business, we have to work on how to grow and expand those particular facilities; we are doing some thinking around that. We don't have concrete plans on that at the moment," he said.

As the Hemas group's Rs 2.6 billion new logistics park facility came into operations last year, Enderby said they would focus on enhancing capacity levels of the facility while offering value-added services to its customer base.

He noted that Hemas may also explore opportunities in expanding into free ports and bonded zones in the future.
(NF)