---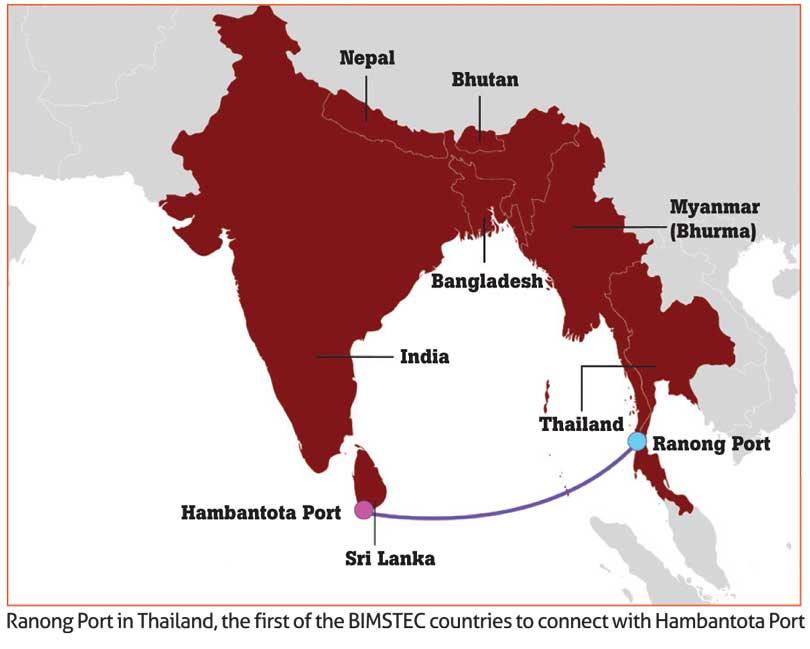 The Hambantota International Port (HIP) signed an agreement for port-to-port cooperation with the Ranong Port in Thailand.

The partnership is a bid to build synergies between these two maritime locations. Thailand is currently following a policy to boost trade with India, Bangladesh and Sri Lanka under the framework of the Bay of Bengal Initiative for Multi-Sectoral Technical and Economic Cooperation (BIMSTEC).

It recently signed an agreement to facilitate a new maritime route between the Krishnapatnam Port in India and Ranong Port.

"We are very happy to be part of this initiative as it is looking at developing the BIMSTEC region to the benefit of all its partners. With HIP now coming strongly into this play, we can see it becoming an important nodal, which will facilitate the movement of cargo not only in the region but also countries to the west of Sri Lanka," said Hambantota International Port Group (HIPG) CEO Ray Ren.

"As we develop these connections and become an active facilitator of a gamut of maritime services for which our multi-purpose port is now gearing itself, we expect to partner international and Sri Lankan companies in port-related industries. The industrial zone, which will be situated adjacent to the docks in the bonded area of the Hambantota Port, is a totally new offering for the region.
It will also make HIP the gateway port for the southern region of Sri Lanka," said Ren.

The first phase of the agreement, with the Ranong Port and HIPG would be to exchange information and have cooperation in port management, operations, information technology, communication, port connectivity, port-related industries and investment promotion in order to enhance the development of the two ports.

The possibilities of introducing coastal shipping between the Ranong Port and HIP, with a view to promoting bilateral trade, investment and maritime transport logistics would be considered in the next steps.

"To achieve the objectives of this agreement, we shall establish a Joint Working Group Meeting to draw up concrete programmes and activities. The Joint Working Group Meeting will be organised every two years and each party will take turns in hosting the biannual meeting," said HIPG General Manager Commercial and Marketing Lance Zuo, who represented HIP at the signing ceremony.

A special seminar on 'Thailand and Sri Lanka: Opportunity and Way Forward' was held after the signing ceremony. The main aim of the seminar was to promote maritime transport, port/shipping business and port-to-port cooperation between Thailand and Sri Lanka through this agreement.

HIPG Assistant General Manager Commercial and Marketing Bindu Ranasinghe, who was also present at the seminar, made a presentation on the development of HIPG, which was followed by a panel discussion.