---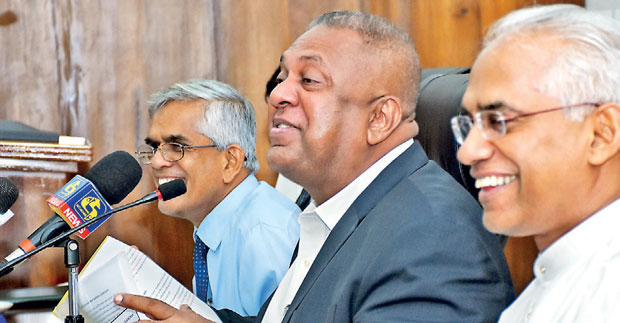 From left: Treasury Secretary Dr.R.H.S. Samratunga, Finance and Mass Media Minister Mangala Samaraweera and Finance State Minister Eran Wickramaratne
Pic by Kushan Pathiraja
By Chandeepa Wettasinghe
The country was treated to a pre-budget bonanza yesterday, when the Finance Ministry cut several taxes and provided Rs. 4.4 billion in interest subsidies under several loan schemes to encourage youth entrepreneurship.

"We want to support the youth hoping to become entrepreneurs. Entrepreneurs need ICT and logistical support. So, we are providing these incentives," Finance and Mass Media Minister Mangala Samaraweera said.

Under excise duty cuts, mini-trucks and single cabs will see a Rs.300, 000 reduction in prices.
The 90 percent excise duty on motorcycles with an engine capacity less than 150cc will be removed, and those below an engine capacity of 50cc will see Rs.500 being charged per cc, while those between 50cc-150cc will see Rs.1, 000 being charged per cc.

Samaraweera said that in order for entrepreneurs to connect in a modern economy, the current 10 percent Telecommunications Levy on data services will be removed starting September 1.
"Not only will the tax be removed, but the service providers have agreed to increase the data being provided for a certain price by 10 percent," he said.

His predecessor, Ravi Karunanayake had attempted to increase the Telecommunications Levy up to 25 percent to everyone's surprise, and Karunanayake said that this had been proposed by the telecom service providers.

Many had criticized Karunanayake's move as being against the government policy of creating a knowledge-based economy.

Telecommunications Levy collection had dropped sharply in the first 4 months of this year, when increased VAT caused people to trim their data usage.

Meanwhile, in order to boost small and medium scale enterprises, small scale enterprises with a annual revenue between Rs. 25-250 million could avail themselves of up to Rs.50 million in borrowings at a concessionary rate of 6.54 percent, with the amount available doubling to Rs.100 million in case of an export firm.

For medium scale enterprises up to Rs.750 million in annual revenue, the interest rate would be 9.89 percent, and the maximum loan amount would be Rs. 200 million, which could be extended up to Rs. 400 million for an export firm.

However, the minister said that the loans will be available for specific industries such as agriculture, animal husbandry, fisheries, horticulture, home gardening, printing, tourism, apparel, handloom, ICT and manufacturing industries, and the loans will be based on the employment provided by each firm.
In order to boost chicken production and storage, a concessionary Rs. 50,000 loan will be available with fully subsidized interest payments to purchase deep freezers. Farmers will be provided loans of up to Rs.500, 000 at a 3.27 percent subsidized interest rate.

A Rs. 4 million loan also at a concessionary interest rate of 3.27 percent will be available for school transport providers to purchase buses of at least 28 seats, which the government is attempting to make into an industry norm.

Solar power units could be purchased with a loan of up to Rs.350,000, at a concessionary interest rate of 6 percent.

Further, Sri Lankans who could not complete small houses of less than 750 square feet could avail themselves of a Rs.200, 000 loan to complete the house at an interest rate of 6.5 percent.

The loans and tax breaks came into effect from midnight yesterday.

Although termed as youth empowerment, these benefits could be enjoyed by the entire population.

State Finance Minister Eran Wickramaratne said that this is a pre-budget bonanza and not a pre-election bonanza. However, local government elections are most likely to occur at the end of this year or early part of next year.

The government is going through a tough period owing to the alleged bond scandals and related scandals under its tenure, which have become the main points of discussion.

Samaraweera said that subsidizing the loans will cost the Treasury Rs. 4.4 billion but it was provisioned under the 2017 budget. He said that even if the funds are underutilized by the end of this year, the programme will be continued until the funds are exhausted.