---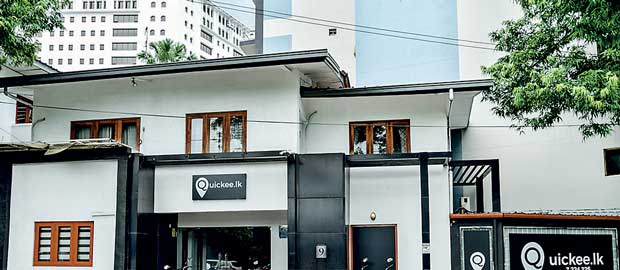 Sri Lanka's pioneering hyperlocal delivery network, Quickee, is set for unprecedented growthand capacity expansion following the close of its Series A funding round in late 2015which has accelerated the popular start-up into high gear.
Backed by new investments, Quickee was quick to boost its branding efforts; with a re-designedlogo, a revamped website – complete with a fully-integrated back-end system, anda sophisticated new mobile application expected to go live to market in June 2016. The company currently manages almost 4,000 deliveries a month within the Colombo suburbsa staggering number considering Quickee does little or no marketing.
The first hyperlocal delivery company of its kind in Sri Lanka, Quickee was established in March 2013 by Ashan Whittall and Mariam Moosa.The young entrepreneurs set about to solve a simple problem – Colombo had no viable delivery options for people at night. Whether it was a meal or simple items from the supermarket, the concept of express delivery (order placed and delivered under an hour) was new to Colombo. Since its humble beginnings, operating out of Mariam's parents' home, Quickee has grown organically over the years.
Today, they field between 125-150 orders per day with a marketing spend of less thanRs. 10,000 per month. Though the past few years have seen a number of competitors attempt to enter the space; Quickee stands the test of time. While the industry has relatively low barriers to entry, most underestimate the challenges of managing a hyper local delivery business.
Given the significant acceleration of demand for its services, Quickee was able to concludea series A round of funding in December 2015 upon which the company moved into dedicated offices, tripled its staff and rider count and doubled its restaurant partnerships. Supported by capital injections and guidance from its latest backers, Dimitri Sheriff, Nadinka Sheriff and Abbas Sethwala, Quickee is now working to cement its place at the forefront of a convenience-led retail revolution in Sri Lanka.
Having consolidated its reputation for expressand reliabledelivery in the Business-to-Customer space, Quickee's success has been reinforcedby its recent success in the Business-to-Business place. Quickee's new management team has forged strong and lasting relationships with a wide network of partner establishments spanning a diverse selection of restaurants, e-commerce sites, supermarkets and FMCGs.
Quickee's portfolio of serviceswas most recently enhanced with the delivery of routers, phones and SIM cards for a leading telecommunication service provider, express deliveryof premium pet food brands such as Pedigree and Whiskers, a marketing and distribution collaboration with Redbull and many more. Additionally, emerging local retail giant, Laugfs has also signed Quickee as its official delivery partner for its e-commerce offerings that will be launched in the near future. At the forefront is a collaboration to provide customers with on-demand express grocery delivery. Next, Laugfs and Quickee will be joining hands to offer express delivery of a householdessential.Meanwhile, trials for on demand flower delivery have already begun and express laundry collection and delivery is expected to roll out in June.
When asked on what was next for Quickee, the new board of directors emphasised the expansion of their capacity as well as their reach. With demand currently outpacing supply, Quickee is on a recruitment drive. An incentivised and motivated call centre and riders is the heart of the business.
Requests to expand Quickee's reach have been met by the board with caution. Quickee's plan to be an island wide service is prudent, with a priority on upholding service quality. The Board has an eye for the future, recently making its first steps to trial and assess the feasibility of using airborne drones for intercity deliveries.