---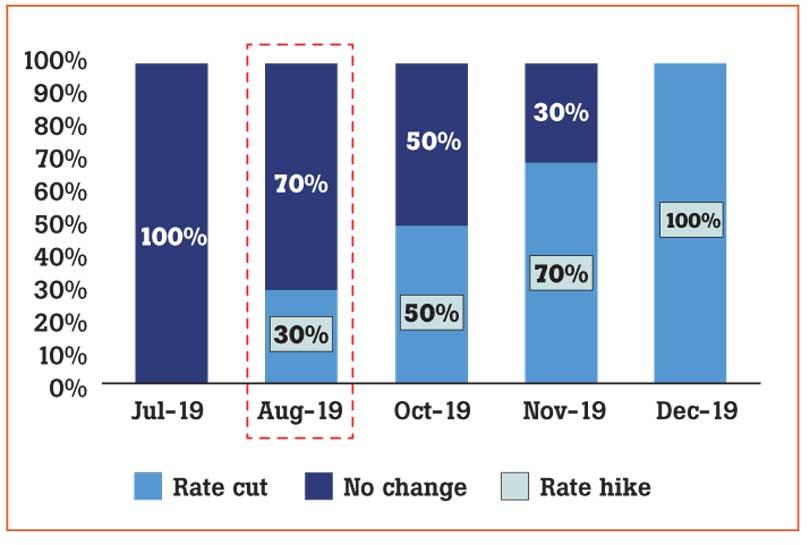 A leading equity research house in the country believes the Central Bank will maintain the key policy rates at their current levels this Friday amid pick up in credit growth and expansion in the industrial production following April 21 Easter attacks.
The Central Bank kept policy rates at the last monetary policy review in July after cutting 50 basis points in on May 31 to support faltering growth.

First Capital Research expects a 70 percent probability for the continuation of current policy stance while allowing the impact of previous rate cut to be materialized and 30 percent probability for a rate cut amid the slower economic growth.

Sri Lanka's economy grew 3.7 percent in the first quarter and was expected to grow 4 percent this year.

However, following the Easter attacks, the Central Bank cut the growth forecast to 3 percent, while maintaining that growth will accelerate in the fourth quarter.

Manufacturing and services sector activities expanded in both June and July compared to May, signaling a quick recovery from the Easter bombings that paralyzed almost all the sectors of the economy. Meanwhile, credit growth and lending slightly picked up in June as private credit grew Rs.63.2 billion in June—the highest credit growth for the year after contracting for two months in a row.

First Capital Research expects the Central Bank to impose cap on lending rates to support the revival of demand for credit by the private sector and the recovery of economic activity.
However, high level of non-performing loans in the system is expected to delay the downward adjustment of lending rates.

The Central Bank has already slapped deposit rate caps on banks. "These steps, in our view, are likely to get transmitted into lower lending rates in the banking system towards 4Q19," First Capital Research said.