---
Creating history in Sri Lanka's FMCG retail market, the country's state owned large scale retail network is to shift its expansion gears to high speed on March 28, and the race starts with the largest number of openings of Lanka Sathosa brand outlets across Sri Lankan market within a 24-hour short period.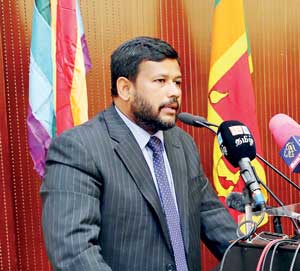 "I am pleased to announce that on March 28, 50 new and fully equipped Lanka Sathosa outlets across Sri Lanka will be opened by President Maithripala Sirisena and Prime Minister Ranil Wickremesinghe," said Minister of Industry and Commerce Rishad Bathiudeen.
Minister Bathiudeen was addressing the Cooperatives Provincial Ministers' Summit by his Ministry at BMICH yesterday joined by many provincial cooperative ministers.
"When I took over Lanka Sathosa was faced with issues of lack of computerization, and non- availability of latest stock updates for top managers. Accounts too were lagging. As a result we started restructuring work within the system with consultancy by the international firm KPMG. Now we come to final phase of island-wide Lanka Sathosa network computerization and by July 2017, it will be complete. An ERP system will run on this," said Minister Bathiudeen.
"The total number of Lanka Sathosa outlets planned is 500 and by end of this year, we will activate all 500. Once we complete 500 outlets by end of 2017, we will stop Lanka Sathosa outlet network expansion. Thereafter, we will expand in a new way. We will be establishing Lanka Sathosa retail franchises with existing private grocery shops and usual retailers. The total number of planned such retail franchises across the country is 8000."
At present, Lanka Sathosa has 325 outlets across Sri Lanka reporting an annual network turnover of Rs. 30 billion. Among other important projects in its restructuring are installation of 125 new CCTV systems, setting up of five laboratories, and installation of the Human Resource Information System to manage its 3500-employee squad island-wide.