---
Sri Lanka's banks will see a rebound in private sector credit triggered by the acceleration in consumption towards mid-2019, as the election minded-government is likely to loosen its grip on the tight spending and offer fiscal handouts to buy votes.

Sri Lanka's banking sector is currently feeling the pinch from earlier monetary squeezes and fiscal austerity measures as the banks face moderating growth in their new loans and rise in non-performing loans in the existing facilities.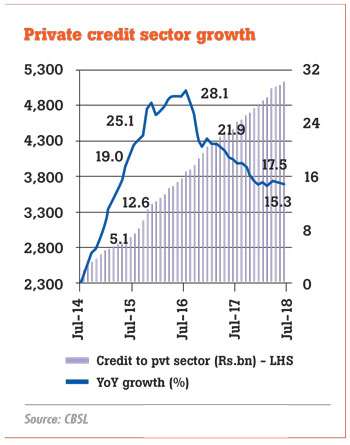 But CT CLSA, a leading stockbroking and an equity research firm in Colombo, sees room for banks to expand their loan books from mid-2019, by which time the country will have concluded its three-year stabilization programme with the International Monetary Fund (IMF) and the government facing crucial presidential elections.

"Consumption rebound is anticipated in mid-2019E on account of the presidential election-focused fiscal handouts during this period, given that the IMF programme is also likely to be concluded by June 2019," said a sector report titled 'Banking on Fundamentals' issued by CT CLSA.

During the first half of 2018, Sri Lanka's private sector credit growth remained at 15 percent level, which is considered "stable but healthy" and CT CLSA expects the growth to continue at this level in the near term.

When the yields get squeezed, the banks tend to tilt towards high-yielding retail lending from low-yielding corporate banking and CT CLSA expects this trend to become intensified going forward.
However, they expect this transformation to further put pressure on the banks' near-term asset quality.

Also, the fiscal-driven price pressures will also likely continue towards the remainder of 2018 and cause pressures on short-term cash flow management issues of the borrowers, causing a strain on debt servicing.

"However, NPA pressures may stabilize and possibly reduce despite anticipated slight increase in interest rates in 2019E, owing to the anticipated consumption rebound in mid-2019," the report noted.
Sri Lanka's banks' non-performing loan ratio hit a three-year high of 3.3 percent in May, this year, from 2.5 percent in 2017.

CT CLSA's report further identifies some other key thrust areas to drive lending—manufacturing and trade (local and export)—and expects the construction sector to pick up during the second half of 2018.

However, the opening of the fiscal and bank lending taps is unlikely to bode well for the Central Bank's intended inflation targeting regime as such loosening of policy at once will take a toll on macro and fiscal stability, "if implemented with less care", CT CLSA cautioned.