---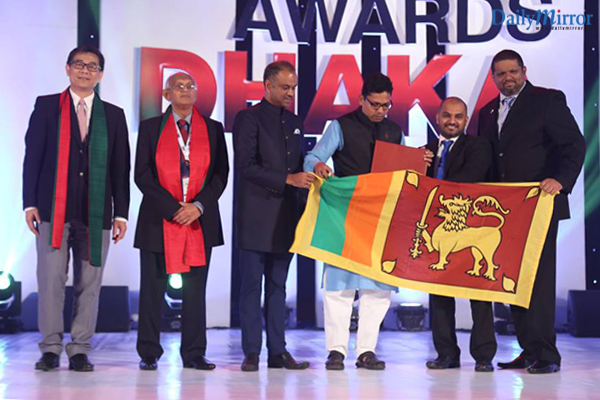 Seen here is Viranga Kekulawala- CEO of Eimsky Business Solutions (2nd from right) and Samitha Nagasinghe - General Manager of Omobio (extreme right) receiving the merit. Also present are State Minister Hon Zunaid Ahmed Palan, Government Chief Information Officer Allen Yeung, APICTA Chairman Dr Dileepa De Silva and Convenor Russell T Ahmed
Eimsky Business Solutions Pvt Ltd, providing world class customizable software solutions serving multiple industries across Sri Lanka, SE Asia and Australia, was recognized with a merit award in the application tools and platforms category at the prestigious APICTA Awards 2017 held in Dhaka, Bangladesh.
The company was nominated for the Asia Pacific ICT Alliance (APICTA) awards after winning a hat-trick at the National Best Quality ICT Awards (NBQSA) last year for its Smart Office Suite being titled the Most Innovative and Best Solution in Cloud Computing Application in addition to the product also clinching a Silver award in the category including an overall Bronze.
The competition which is the largest of its kind saw some of the best ICT products from countries such as Australia, Bangladesh, Brunei Darussalam, China, Chinese Taipei, Hong Kong, Indonesia, Japan, Macao, Malaysia, Myanmar, Pakistan, Singapore, Sri Lanka, Thailand, Vietnam and Nepal. This time around it was an overall incredible achievement to Sri Lanka as it ranked second taking home three Gold awards and 6 merits, competing in eight categories out of 17.
The 17 categories included application tools and platforms, communication, e-learning, financial industry application, government and public sector, health and wellbeing, inclusion and community, industry application, media and entertainment tech, R&D, retail and supply chain management, school project, security, start-up, sustainability and eco tech, tertiary student product, and tourism and hospitality.
The Eimsky Smart Office Suite comprises of modules that brings digital smartness to everyday life. The product missed the Gold award by a mere 0.1pct point at this largest competition which is considered as 'Oscar Awards in ICT', proving the company's revolutionary cutting edge IoT solutions to bring real-time visibility into enterprises globally, with its acquisition by Omobio.
The suite has a smart locker system (cloud-based locker management), intelligent hot desking solution, cashless smart cafeteria system, highly efficient RFID/NFC (hybrid) based attendance and visitor management system, NFC based smart kiosk system, automated car parking system, innovative employee and visitor tracking and monitoring system, active RFID based customer loyalty management system, etc.
'We are delighted to have won a merit in one of the largest ICT competitions in the world. We are even more proud that our product Smart Office Suite was just point one step closest to receiving a Gold award among various others. This goes onto exhibit our passion and drive to be one of the best in the next-gen tech industry among many other global organizations, said Viranga Kekulawala, CEO and Founder of Eimsky Business Solutions (Pvt) Ltd.
With this achievement the company has also very recently deployed its resources and talent in the Bangladesh market. Eimsky Business Solutions has today evolved to be the first preferred choice in the domestic market for RFID/ IoT based innovative solutions. Its domain expertise on RFID and IoT caters to various domains of business as it evolves in a dynamic world.
With the last year's acquisition by Omobio and working together with internationally recognized business partners, the company specializes in smart office solutions, HawkEye360 for apparel industry, next generation asset tracking solutions, smart laundry tracking solution, active UHF RFID tracking solutions, cloud based IOT solutions, barcode solutions amongst many other also including many value added services technologies to maximize revenues.