---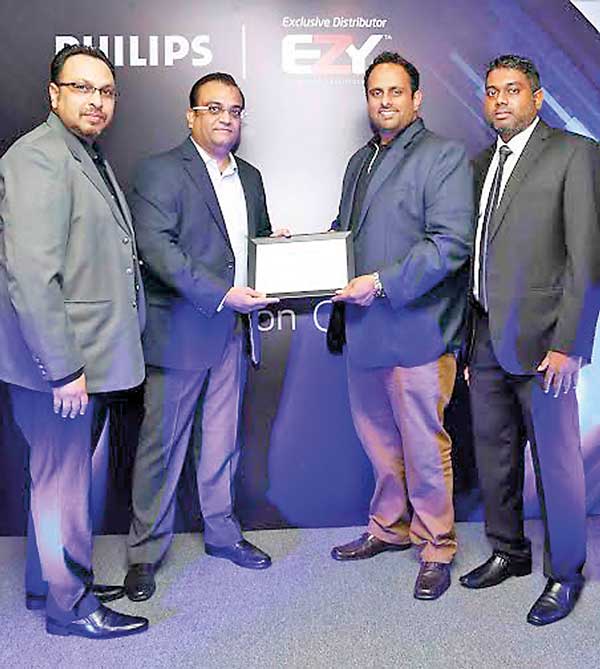 (L-R) Representatives of Philips, Atul Jafra and Saurabh Grover seen handing Exclusive Distributor rights to Managing Director, MD/CEO, EZY Corporation Sri Lanka & Maldives - Shafraz Hamzadeen and General Manager, Consumer Business Group, EZY Distribution, Prabath Navaratna
Technology Distribution Company, EZY Distribution was appointed with Exclusive Distributor rights to sell Philips displays, in a recent event held in Colombo. Philips, a renowned global brand, who were seen committed to product innovation technology in Sri Lanka, introduced In Plane Switching (IPS) technology powered displays, designed to provide flexibility and precision for users and viewers.
With a mandate to continuously improve the lives of people through meaningful innovation, Philips incorporates a unique approach to technology through its instrumental focus on human friendly Anti Blue Light (ABL) and AmbiGlow technologies. The technologies have immensely helped the healthcare sector incorporate technology with impactful meaning. Philips continues to change the way content is presented and consumed to people across the world.

Representative of Philips and Regional Business Head, Saurabh Grover said, "We are confident that the channel strength EZY Distribution brings to the table and the innovation that Philips is known for will work in synergy to our advantage in Sri Lanka Market, and Philips will soon be established as one of the key brands in the market."

EZY, a diversified transnational corporate, operates with over a thousand employees from thirty nationalities, across fifteen economies in South Asia. With extensive country coverage, local partners, and a highly motivated and proactive sales team, EZY continues to drive all brands that have partnered with them to market leadership.

General Manager, Consumer Business Group, EZY Distribution, Prabath Navaratna said "The partnership signifies achieving objectives set out by Philips and a big leap forward in growing the display market. EZY Distribution has multiple distribution offices touching close to thousand partners, enabling coverage across greater Sri Lanka – that will propel Philips product sales."

Philips intends to grow their market share in Sri Lanka by strategically engaging with EZY across the commercial and consumer markets. With specialized focus on the commercial range of displays which they anticipate would be an integral part of corporate growth, EZY intends to engage in the market space to drive Philips to a market leadership position over the next 18 months.