---
Expolanka Holdings PLC is aiming to boost its Expo Freight (EFL) operations to become the first global logistics brand originating from the Indian subcontinent, and over the past year bought out the minority stakes in its subsidiaries in the US and China to achieve this goal.

"In the logistics sector, the main priority would be to position EFL as the first global logistics brand originating from the sub-continent.
To drive this, we expect to pursue a two-pronged approach; grow the freight business and expand the logistics operations globally," Expolanka Group CEO Hanif Yusoof said.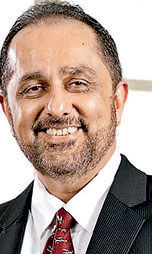 He noted that this would be achieved through deeper penetration in both the North Amercian and Intra-Asia trade lanes, with an equal emphasis on improving both air and sea freight volumes.
Expolanka's decision to acquire the remaining 30 percent stake in its US subsidiary, and the remaining 25 percent stake in its Chinese subsidiary will contribute towards this by enabling higher growth from these key trade lanes, according to Yusoof.

North American trade lane volumes for EFL have grown at a 9 percent compounded annual growth rate (CAGR) over the past 3 years, and made up 42 percent of EFL's total volumes in 2016/17.
The Europe trade lane, with a 9 percent 3-year CAGR accounted for 22 percent of EFL's business and the Intra-Asia trade lane, with a 3-year CAGR of 17 percent, comprised 19 percent of EFL's total volumes for 2016/17. EFL's Intra-Asia volumes were driven by higher cargo uptake from Indonesia, Vietnam and Hong Kong, which helped offset weaker performances from the Middle East and Africa. Yusoof said that the core markets of India, Sri Lanka and Bangladesh performed well as well.
He added that as a part of its global expansion, EFL will also look to make inroads into new trade lanes such as the transpacific, where ocean freight traffic has been on the rise in recent years.
However, he noted that attempts to grow ocean freight amidst the current overcapacity scenario calls for caution.

"(It) requires EFL to hone its procurement programme and further refine pricing strategies to secure a competitive advantage," Yusoof said.

He went on to say that building EFL's profile as an end-to-end logistics service provider calls for renewed efforts to expand the warehouse and distribution management model globally.

"To support these goals, the Group would continue to invest in growing the warehousing inventory and also in technology-driven service platforms. I can categorically state that the Group's asset light model would continue to underpin all our endeavours in this regard," he said.

Expolanka made Rs. 954.51 million in net profits in 2017, down from Rs. 1.11 billion YoY. Revenue for the 2017 financial year increased to Rs. 63.49 billion from Rs. 56.01 billion YoY. High cost of sales and finance costs accounted for the fall in profits for the past year, while its investments segment dragged down profits as well.

The group's logistics segment made up Rs. 54.46 billion of the revenue in 2017, up from Rs. 47.29 billion YoY, while profits after tax from the segment were Rs. 1.71 billion up from Rs. 1.64 billion YoY.
The group is now focusing mainly on logistics and leisure, having divested its diversified interests over the past several years.