---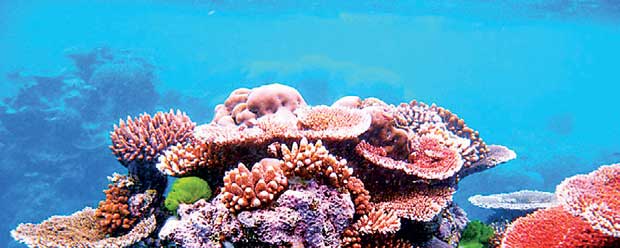 AFP: Coral reefs may be losing their ability to shield coastal communities from storms, sea surges and tsunamis, geologists said on Thursday.
More than 200 million people around the world depend on coral reefs to protect coastal homes and beaches from the ravaging impact of high seas.
But this vital buffer is at threat from reef degradation, according to a paper published by scientists at the US Geological Survey (USGS).
Degraded coral reefs suffer from erosion of the ocean bed, which increases the depth of the sea.
As a result, it becomes harder for coral to grow fast enough to keep up with water levels, which are rising as a result of global warming.
Analysis of five tropical reefs found that the combined effect of rising seas and sea-floor erosion has already increased water depths beyond what most scientists expected to occur decades from now, one investigators found.
Other studies into sea levels this century have predicted a rise of between 50 centimeters (19.6 inches) and one meter (39 inches) by 2100, as global warming causes the seas to expand and increases melt from glaciers and ice sheets. Such estimates do not take into account sea-bed erosion.
The study looked at decades-long measures of two coral reefs in the Florida Keys, two in the US Virgin Islands, and in the waters near the Hawaiian
island of Maui.
The sea bed had eroded at all five sites, ranging from nine to 80 cms.
In the Hawaiian site alone, the sea floor had lost 81 million cubic metres (2.8 billion cubic feet) of sand, rock and other material -- enough to fill an Olympic swimming pool 32,000 times.
"Our measurements show that seafloor erosion has already caused water depths to increase to levels not predicted to occur until near the year 2100," said Kimberly Yates, who led the study.
"At current rates, by 2100 sea-floor erosion could increase water depths by two to eight times more than what has been predicted from sea-level arise alone."
The study was not designed to explore why the erosion had occurred.
But previous research into this has been extensive, typically pinning the blame on a combination of coastal development, overfishing, pollution, coral bleaching, ocean acidification and disease.
In addition to being a natural shield against heavy seas, coral reefs also constitute a unique ecosystem, providing about a quarter of all fish harvests in tropical oceans and sustaining millions of jobs in tourism.
Coral- tiny organisms that build 3-D structures of calcium carbonate minerals -- is already deemed a prime victim of ocean warming.
Earlier this month, scientists in Australia found that coral had bleached on the famous Great Barrier Reef for two consecutive years as a result of record-breaking sea temperatures. Corals can take years to recover from bleaching but for some species, back-to-back episodes can be fatal.
The new research appears in Biogeosciences, a journal of the European Geosciences Union (EGU).