---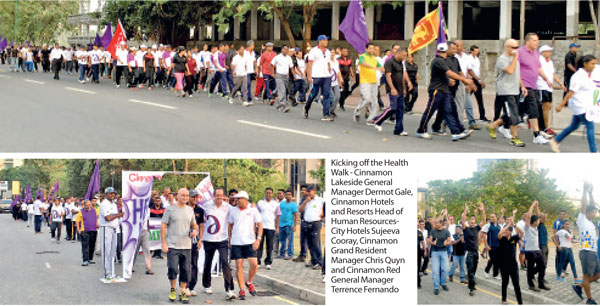 In line with the Government's National Sports and Physical Health Promotion Week initiative, Cinnamon's city hotels – Cinnamon Grand, Cinnamon Lakeside and Cinnamon Red – organised a 'Health Walk' for their associates recently.

Cinnamon Grand Resident Manager Chris Quyn, Cinnamon Lakeside General Manager Dermot Gale and Cinnamon Red General Manager Terrence Fernando, along with over 400 team members participated in the four kilometre walk, around the Beira Lake. Cinnamon Grand's recreation team also encouraged all participants to do brief exercises at certain points of the walk to break the monotony as well as to engage them in and educate them on basic stretching exercises.

All participants were treated to a healthy breakfast at Cinnamon Grand's village in the city, Nuga Gama.