---
The precincts of Leisure World rang with the sounds of unbridled fun and frolic recently when Ceylinco Life hosted policyholder families from every district of Sri Lanka to a day at the theme park in Avissawella.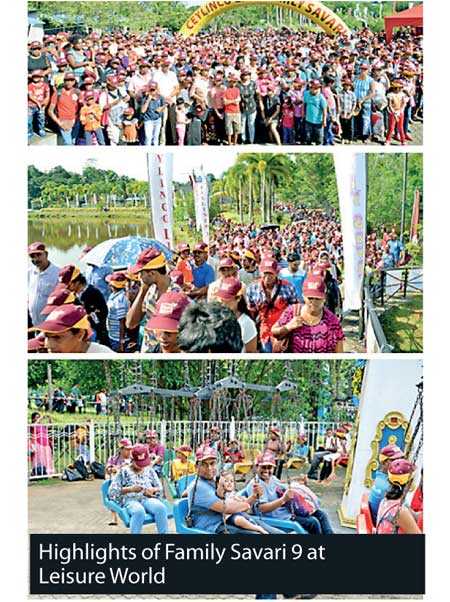 Members of the families of 500 policyholders had been drawn for this outing under the life insurance leader's 'Family Savari' mega promotion, now in its ninth year.
The thrum of the rotors of a specially chartered helicopter filled the air as five selected families were airborne for aerial sightseeing tours as part of the day's agenda of family entertainment on the rides, slides and chutes of Leisure World.
This first phase of the Family Savari promotion for 2016 is to be followed by a series of all-expenses-paid overseas tourslater this month and in June for another 65 Ceylinco Life policyholder families – 50 families to Singapore, ten families to Dubai and five families to Germany.
Speaking at the commencement of the event, Ceylinco Life Director and Deputy CEO Thushara Ranasinghe said the Family Savari promotion could fairly claim to be the most popular customer promotion of its kind in Sri Lanka. "Ceylinco Life has been the life insurance leader in Sri Lanka for the past 12 years," Ranasinghe said, noting that the many extra benefits such as Family Savari conferred on policyholders in addition to the benefits of life insurance, contribute to the company's success. At Leisure World, Ceylinco Life policyholders were given the run of the theme park, with meals, refreshments and transport to and from the location provided. The five lucky policyholder families that won the helicopter tours were from Panadura, Vavuniya, Beruwela, Trincomalee andTissamaharama.
A total of 2,260 people have won overseas holidays or the local excursion from Ceylinco Life at this year's Family Savari, taking the total number of people benefitted by the promotion to date to more than 17,000.
The Ceylinco Life Family Savari promotion has as its Brand Ambassadors the Sri Lankan actors Sriyantha Mendis, Sanjeewani Weerasinghe and Roshan Ranawana and his wife Kushlani who participate in the Savari outings and overseas tours.
The market leader in Sri Lanka's life insurance sector since 2004, Ceylinco Life has close to a million lives covered by active policies. The company is acknowledged as the benchmark for innovation in the local insurance industry for its work in product research and development, customer service, professional development and corporate social responsibility.