---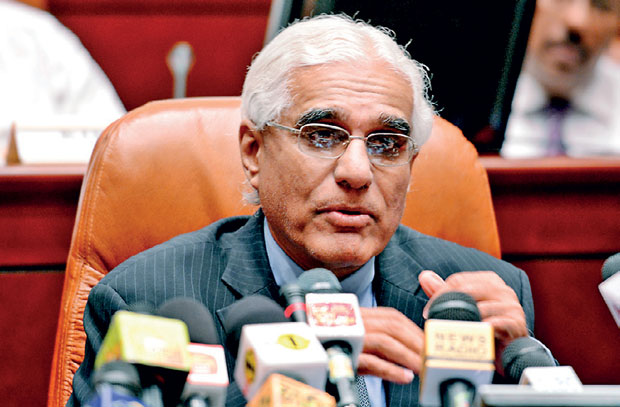 Sri Lanka's Central Bank has set a target of US $1.2 billion in direct market purchases of dollars to boost the island nation's reserves this year, the monetary authority's chief Indrajit Coomaraswamy said yesterday.
The move comes after Sri Lanka missed its end-December reserves target agreed with the International Monetary Fund (IMF) for a US $1.5 billion, 36-month loan.
"That's our target," Central Bank Governor Coomaraswamy told a forum of the Foreign Correspondents' Association of Sri Lanka. "Now we are beginning to see the reserves build up. All in all, we are projecting US $7.2 billion by the end of the year." The Central Bank early this year decided to stop intervening in the market, noting that past attempts to defend the currency have been followed by sharp falls in the rupee.
Coomaraswamy said a US $1.5 billion inflow from a recent sovereign bond, another US $450 million from a syndicated loan, which is already completed, and a fresh US $250 million syndicated loan in the coming weeks, could help to achieve the US $7.2 billion year-end reserve target.
"We have already purchased around US $400 million from the market," he said.
U.S. dollar inflows have helped the rupee stabilise after a sharp fall of around 14 percent since January 2015. The Central Bank, however, has been adjusting the spot rupee reference rate down, and the currency has fallen 1.8 percent so far this year.
The spot reference rate was last adjusted down to 152.50 on May 5, from 150.00 at the start of the year.
The Central Bank has allowed the currency to gradually depreciate since mid-December, revising its spot reference rate down multiple times as it sought to boost export competitiveness and spur a sluggish economy.
It has said that defending the currency with foreign exchange reserves did not 'seem sensible'.
Dealers said the currency market could panic because the move might put the rupee under downward pressure. "This move will definitely put a lot of pressure on the rupee at a time the Central Bank is not defending it and the market is determining the exchange rate with lack of supply," a currency dealer said asking not to be named. (REUTERS)