---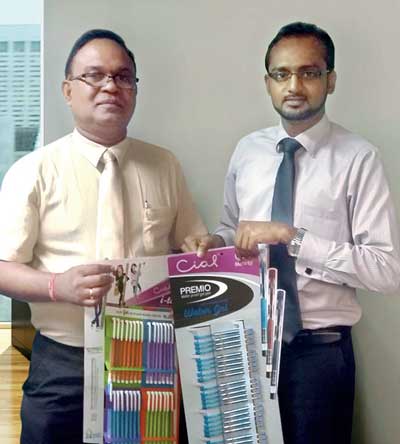 Cial, a renowned brand owned by CIC Holdings PLC recently unveiled two ranges of pens–the Ciali-teen and CialPremio. Cial i-teen is aimed at teenagers and schoolchildren, whilethe Cial premio is tailored for academics and executives. The i-teen pen comes in with novel oil gel concept which assures soft and fastcontinous long-lasting writing. The Cial i-teen designed for teenagers who love colour, isavailable in a range of eye-catchingcolours to match your style and comeswith a soft finish and an easy to handle grip.
The light weight pens feature a steady tip which is ideal for smooth writing. The Premio range was designed especially for busy academics and executiveswho value premium appearance and superior writing ability.Premio produced with a breakthrough water gelink technolog ydeveloped in Japanfeatures a water resistant and smudgefree ink specially formulated to dry fast.The Premio's 0.5mm micro tip, water-based gel ink and anti-smudge technology makes it the idealchoice for the users. The penssleekdesign, smooth writing capability and longer writing distance set the stage for supreme communication.
The Premioisavailable in blue, black and redwith aprofessional, stylish design and integration of Japanesetechnologythatgives thecustomers total value for money. "Writing is meant to be an effortless task which we want children to enjoy. Our pensare designed and made usingadvanced British technology,withthat in mind. Cial stationery productshave always been afirst choice among customers. We've taken all the aspects theylook for and developed the Premio to fit their upwardly mobile lifestyles. Most importantlyeach Cial pens old contribute sten cents to children'seducationin this country through the 'Cial Athwela' CSR project," said Samantha Ranatunga – Managing Director/CEO, CIC Holdings PLC.