---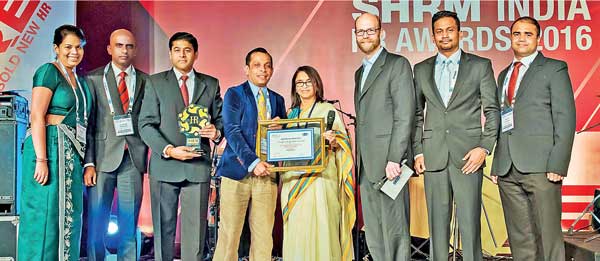 Ishan Dantanarayana, Chief People Officer at Brandix (4th from left) accompanied by HR representatives of the Group receives the award from Achal Khanna, CEO of SHRM India
The Brandix Group was declared the sole winner for HR Excellence in South Asia (excluding India), at the 2016 HR Awards of the Society for Human Resource Management (SHRM), the world's largest professional association devoted to the sphere.

Sri Lanka's top ranked exporter and the largest employer in the country's export sector waspresented the award at the SHRM India Annual Conference and Exposition in New Delhi on 29th and 30th September.
The award in the international category –the only one awarded to the whole of South Asia –recognises organisationsoutside India that have successfully designed and implemented excellent people management practices and systems in human resources.The award, accompanied by a Certificate of Achievement for 'Excellence in HR – South Asia' was accepted on behalf of the Group by Ishan Dantanarayana, Chief People Officer at Brandix.
"People are at the heart of our business and are fundamental to our credo of 'inspired solutions,' Mr Dantanarayana said. "We invest immensely in the development of skills and potential of our associates, and are therefore delighted that our commitment to excellence in HR has been recognised by an organisation of the credibility and calibre of
the SHRM."

The award presented to Brandix evaluates multiple facets of the Group's HR practices across a wide array of functionalities.
Ranked the highest employment provider in Sri Lanka's export industry from2012 up to the latest awards presented for 2015 by the Export Development Board (EDB), Brandix received the Gold award and the award for Best HR Practices in the'Leadership and Key Talent Management' category at the last National HRM Awards held in 2014 and which are presented bi-annually. In 2012 too, the Group won Gold at the National HRM awards.
The Brandix Group's approach to human resources management has also received worldwide attention through the best-selling book 'Work Rules!' (Insights from Inside Google) by Laszlo Bock, Senior Vice President of People Operations at Google Inc., USA. In it, the author devotes part of page 9 and much of page 10 to describe how the Brandix Group inspires a large female workforce by telling employees to "come as you are and harness your full potential," and lists some of the employee development and welfare initiatives implemented by the Group.

Furthermore, Brandix had the distinction two years ago, of becoming the first company in the region to be featured on the cover of 'HR Magazine' – the most widely read and respected human resources publication in the world, with a circulation of more than 275,000 in 174 countries. Titled 'Woven into the community,' the story described how HR practices extend beyond employees to also cover the society andgo hand in hand at Brandix with the Group's principal CSR philosophy of providing water to the needy.