---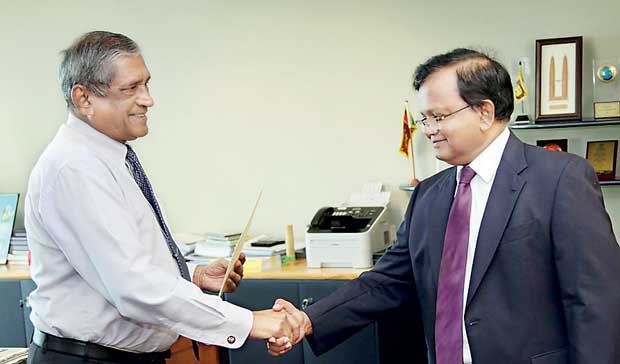 BoI Chairman Upul Jayasooriya and Global Advanced Recycling Lanka (Private) Limited Chairman/Managing Director/CEO Fred JC Elias exchanging
the agreement
The Board of Investment of Sri Lanka (BoI) signed an agreement with Global Advanced Recycling Lanka (Private) Limited to manufacturers of 'Greenorg' quality certified organic fertilizer projects, representing at an investment of US $ 141-350+ million.
This project will also generate employment opportunities as it will create more than 760 jobs in the country. The project will be located in Walpita, Divulapitiya.
The agreement was signed by Chairman Upul Jayasooriya on behalf of the BoI and Global Advanced Recycling Lanka (Private) Limited Chairman/Managing Director/CEO Fred JC Elias.
The primary objective of Global Advanced Recycling Lanka (Private) Limited is to produce quality certified organic fertilizer that will protect Mother Earth by replenishing and rejuvenating depleted soil conditions making it fertile.
Global Advanced Recycling Lanka (Private) Limited will manufacture the organic fertilizer in Sri Lanka under the trade the name 'Greenorg', which is custom made and precisely formulated to end user requirements meeting even to the most depleted soil conditions.
Greenorg organic fertilizer carries all of the essential nutrients and the required trace elements (N) nitrogen, (P) phosphorus and (K) potassium that are needed for healthy plant growth. These nutrients and trace elements enhance the plant's own immune system to protect itself from harmful pest and diseases, which will eradicate the use of pesticides and insecticides that are so damaging and harmful to our soil, plants, humans and all other living things.
Fred Elias said that Greenorg certified organic fertilizer has certain qualities such as slow nitrogen release, multiple forms - granules, tea-sized and micro-sized powder, pellets or liquid - free of pathogens and weed seed, fresh smell, not re-odorizing when wet, long shelf life, stability which makes it suitable for inside retail sale and being non-hazardous to humans and animals - proved by a guaranteed analysis by an international authority.
Greenorg fertilizer will be produced in pellets and water-soluble granules and also in liquid form. It is free of seeds, harmful weeds and toxic materials, pathogen and odour.
These are commercially viable fertilizers for large-scale horticulture, cropping and intensive agriculture. It has been proved to be highly effective in the field once blended and spread effectively.
Global Advanced Recycling Lanka (Private) Limited will make available its product in a number of overseas markets, when in full flow is expected to bring in a large amount of export earnings to Sri Lanka while providing employment in a state-of-the-art manufacturing facility along with the latest technical knowhow and development opportunities to the suitably talented Sri Lankan youth.