---
Ex-Cairn blocks to be auctioned first
Previous tender to Canada's Bonavista to be honoured
France's Total S.A. to get exploration rights for east coast block
By Chandeepa Wettasinghe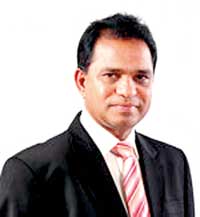 Bidding rounds for the Mannar basin's offshore oil and gas fields are likely to begin in two months, a top Power and Energy Ministry official said yesterday.
"The tender board is still working on it, but in a couple of months, we'll be able to do that," Power and Energy Ministry Secretary Dr. B.M.S. Batagoda said.
Mirror Business reported in December that the bidding rounds were likely to start in the first quarter of 2016.
Dr. Batagoda, confirming the timeline, said the 'M2' block explored by Cairn India wold be auctioned off first.
"There was a section in which Cairn discovered (gas). Since they pulled out, the asset belongs to us. So now we're calling for tenders to develop the asset," he added.
Cairn, which pulled out from Sri Lanka last November to focus on its oilfields in Rajastan, was said to have spent US $ 240 million in exploring the block. Out of the four exploratory wells they dug, two yielded gas deposits.
The Petroleum Resource Development Secretariat (PRDS) said that the initial interest would be on the ex-Cairn block due to the availability for modern data, compared to other blocks, which have also received tentative enquiries from leading power companies.
PRDS also said that the government would call tenders to obtain airborne gravity and magnetic data of the other blocks of the Mannar basin in order to increase their attractiveness.
Meanwhile, Dr. Batagoda confirmed that the government would honour the tenders for the C2 and C3 blocks in the Cauvery Basin awarded to Canada's Bonavista Energy Corporation in 2013.
He added that French energy giant Total S. A. would be awarded an exploration agreement in one of the blocks off the country's east coast.
There are 20 blocks identified around Sri Lanka for exploration, with nine in the Mannar basin, five in the Cauvery basin and six spreading around the southern and eastern coasts.
The southern and eastern blocks have the least available data.
The PRDS estimates commercial operations from the M2 block to begin by 2020. The initial investment into developing the required infrastructure, which includes common pipelines and converting the existing diesel power plants into gas, is likely to exceed US $ 1 billion.
The government expects the initial developer to invest in the infrastructure.
The Ceylon Electricity Board had not included the gas deposits in its 20-year power generation plan published last year due to the gas deposits not being operational and also due to the initial high costs of the project.