---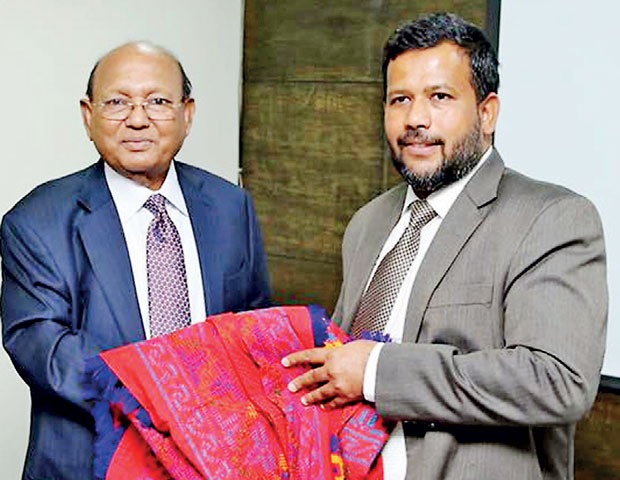 As Sri Lanka-Bangladesh trade continued its steady climb, a top Bangladeshi Minister has recently issued a high-level call for a speedier Free Trade Agreement with Sri Lanka, to conclude as early as next year.

And the yet another SL-B'desh Working Group on Trade is also to take place in Colombo soon.
"Our present bilateral trade has been on the increase but the volumes are not so great," stressed Commerce Minister of Bangladesh Tofail Ahmed in Colombo recently, addressing Minister of Industry and Commerce of Sri Lanka Rishad Bathiudeen. High Commissioner of Bangladesh in Sri Lanka Riaz Hamidullah joined the high-level discussion with Minister Bathiudeen.

In the five year period of 2012-'16, bilateral trade between Bangladesh and Sri Lanka surged by a strong 43 percent to US$142 million (2016). Even YoY trade increased during this period every year; in 2016 alone an 11 percent surge (from 2015's US$131 million).

"It is time that we focus on much broader trade levels than at present. We can do much better. I propose we speed up the proposed FTA between both countries. It is great if we can conclude the FTA by end of next year and I propose so. Meanwhile we can conclude the next Joint Working Group before that, in view of the FTA. It is time to broaden the trade baskets as well. For instance, Sri Lanka can buy more B'deshi pharma products at lower costs."

The first meeting of the Bangladesh-Sri Lanka Joint Working Group (JWG) on trade was held in Dhaka in February 2014 and both sides agreed on feasibility studies for a framework arrangement to boost bilateral trade. The approval of the Sri Lankan Cabinet was granted in May 2014 and the feasibility study (Sri Lanka Segment) was completed subsequently.

According to the Department of Commerce of Sri Lanka under Minister Bathiudeen, during the second JWG Meeting in Colombo in September 2014, both sides agreed that after finalization of the studies and consultation with the stakeholders, "negotiations for a potential PTA/FTA or any other institutional mechanism may be initiated."

"I too agree that being in the South Asian region, our present trade levels do not reflect maximum outcomes" responded Minister Bathiudeen and added: "We are working for the third Joint Working Group session between both countries to be held in Colombo any-time before the end of this year.
The prospects of FTA is being studied by my officials -and our President Maithripala Sirisena's Dhaka visit this July has provided further impetus for strengthening trade cooperation between both countries. Therefore better times are ahead for our bilateral trade."

Once the SL-B'desh FTA shall be wrapped up, Sri Lanka will emerge as the sole South Asian nation to have clinched FTAs with the three big league economies of South Asia thereby entering a dominant 1.7 billion strong market for Sri Lankan exports; Sri Lanka's other two well-known FTAs being SL-India and SL-Pakistan.