---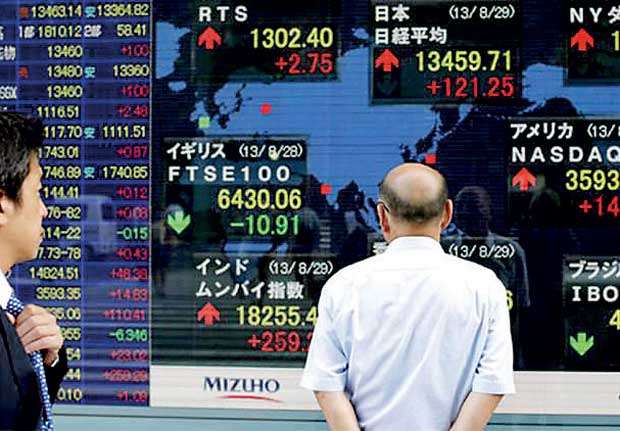 Volatility also spread to commodities with big drops in the price of oil after the OPEC cartel cut its forecast for global oil demand
TOKYO (AFP) - Asian and European stock markets rallied yesterday after two days of ferocious selling sparked by higher US interest rates, trade war fears and attacks by President Donald Trump on his "crazy" central bank.

Equities across Asia closed in the green after another topsy-turvy session that saw stocks initially suffer further heavy losses before bouncing back strongly.
European markets followed Asia's lead, with Paris and Frankfurt enjoying a strong opening, both up more than one percent. London also climbed at the open but only by 0.4 percent.

The fightback followed two days that have seen something approaching panic in global equity markets, as investors took fright in the face of rising US interest rates and an intensifying trade war between Washington and Beijing.

The global sell-off was also due in part to Trump describing the policies of the Federal Reserve as 'loco' and 'crazy', sparking concerns over the independence of the world's top central bank. Tokyo closed near half a percentage point higher after a see-saw session that saw it open in the red but quickly pare losses.

Elsewhere in Asia, China's benchmark Shanghai Composite climbed by 0.9 percent after suffering more than most in the recent capitulation.

Official data released earlier Friday showed that China's trade surplus with the US hit a new record in September, despite Washington's tariffs adding fuel to a spiralling trade war between the world's top two economies.

Seoul, Hong Kong, Sydney and Wellington also enjoyed strong gains.

The futures market pointed to gains worth several hundred points when the Dow Jones opens later Friday, after the US index lost more than 1,300 points in a two-day stocks bloodbath.

"There's a semblance of sanity returning to the markets, but we are no nearer a significant recovery," Stephen Innes, head of trading for Asia Pacific at OANDA, said in a commentary.

Markets are "exhausted after the most significant sell-off in global equities since February," he added.
After a volatile session on Wall Street, the Dow Jones ended 2.1 percent down, taking its losses for the week to more than five percent and closing at the lowest levels in months. Some experts warned that the correction, which came after many indices had hit multi-year highs, would be more than a flash in the pan. "When we have a recalibration in values, it's not surprising that it takes more than one day," said Art Hogan, chief market strategist at B. Riley FBR. "In these kinds of moves, it usually takes three days to wash out." Most market watchers saw last week's surge in 10-year US Treasury bond yields as the catalyst for the two-day rout on Wall Street. Yields spiked at an unexpectedly fast rate, prompting worries about a sudden acceleration of inflation and more aggressive Federal Reserve interest rate hikes. Volatility also spread to commodities with big drops in the price of oil after the OPEC cartel cut its forecast for global oil demand. However, these markets also staged a comeback in early Asian trade.