---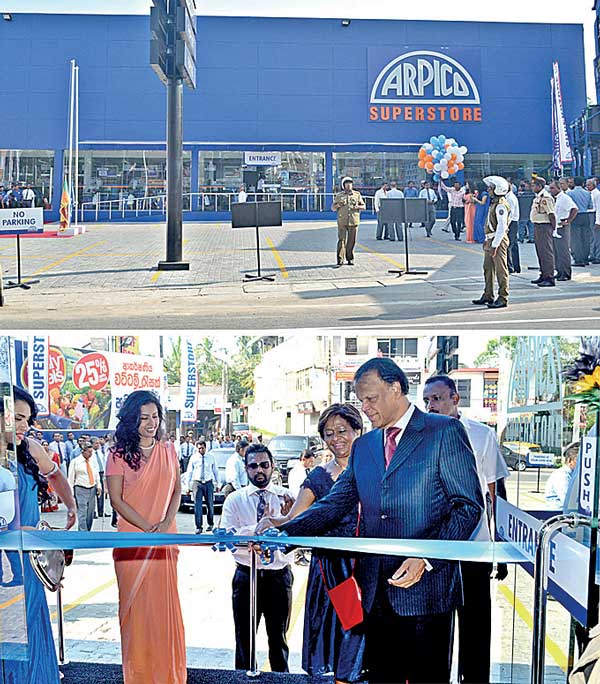 The Arpico r e t a i l chain has opened its 18th hypermarket at Malabe, offering residents of the suburb as well as the thousands of people who pass through daily, the convenience of having more than 40,000 items in one spacious retail space. This l a t e s t Arpico Superstore is located at Thalangama North, Malabe was declared open by Richard Pieris Group Chairman Dr Sena Yaddehige and Yaddehige on 14th March, significantly augmenting the shopping experience in the area in time for the Sinhala and Tamil New Year season.
Consisting of 17,000 square feet of retail space, with the wide shopping aisles characteristic of Arpico, parking for more than 50 customer vehicles and ancillary facilities, the Malabe Arpico Superstore is a cornucopia of diverse product categories and brands, making it a truly one-stop shopping location, the company said.
The store's offering encompasses fast moving consumer goods, fresh produce, household items, electronics and furniture with unmatched variety and choice. It also caters to lifestyle needs such as a pharmacy, Crust Café, and bill payment facilities. Malabe is the 59th location overall in the Arpico retail chain, which now comprises of 18 Arpico Supercentres and Superstores, 18 showrooms and 23 Arpico Daily mini supermarkets.
The Arpico Supercentres are the company's flagship outlets, offering extensive parking, bill payments, banking facilities, lifestyle needs and the widest range of products with the promise to shoppers that they are the most convenient shopping destinations in the country. The retail chain broke new ground in value addition earlier this year with the deployment of its own dedicated taxi service exclusively for shoppers, a first for a supermarket chain in Sri Lanka