---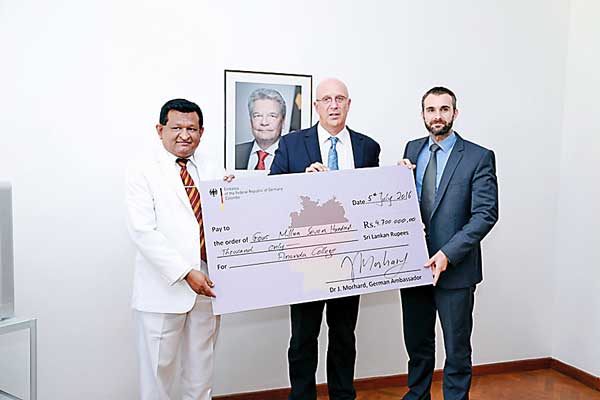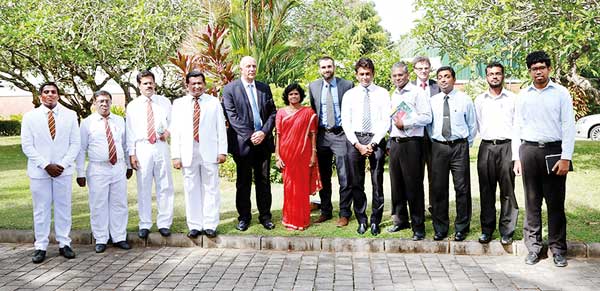 Ananda College Colombo was announced as the winner for the inaugural Green Energy Champion islandwide competition held recently.

The German Ministry of Foreign Affairs together with the Ministry of Power and Renewable Energy of Sri Lanka and the project implementing partner Deutsche Gesellschaftfür
InternationaleZusammenarbeit (GIZ) GmbH and supporting partners Sri Lanka Sustainable Energy Authority and the Sri Lanka Energy Managers Association (SLEMA) launched the Green Energy Champion Sri Lanka initiative, a country-wide competition to identify and recognize innovative ideas on improving energy efficiency and encouraging the use of renewable energy in Sri Lanka.

The cheque handover ceremony recently was hosted by Dr. Jürgen Morhard, German Ambassador to Sri Lanka and the Maldives. Ananda College Principal Kithsiri Liyanagamage together with the school's project team was present to receive the symbolic cheque of EUR 30,000 (ca. 4.7 Mio LKR).
Liyanagamage stated, "We are indeed honoured by the recognition by both Sri Lankan and German governments and we hope our energy solution which includes solar power generation as well as biogas generation would be an example to all the other communities around Sri Lanka as we reach towards a greener future."

The country-wide competition saw over 75 green energy ideas from individuals, local government institutions, community-based organisations, SMEs and NGOs. Post the preliminary screening, a jury consisting of all stakeholders involved finally decided on the winning green energy proposal at a special meeting held at the Sri Lanka Sustainable Energy Authority office.

"We were overwhelmed by the large number of outstanding project proposals we received throughout the competition. This shows the huge interest Sri Lankans take in the shift to renewable energy sources and in increasing energy efficiency. I wish Ananda College to become a blueprint 'Green Energy Champion' and I hope their project will demonstrate a replicable way how to contribute to the struggle against climate change," Ambassador Morhard said during the short ceremony.

Apart from the prize money for the procurement Ananda College will also receive technical trainings for the implementation of the awarded project proposal.