---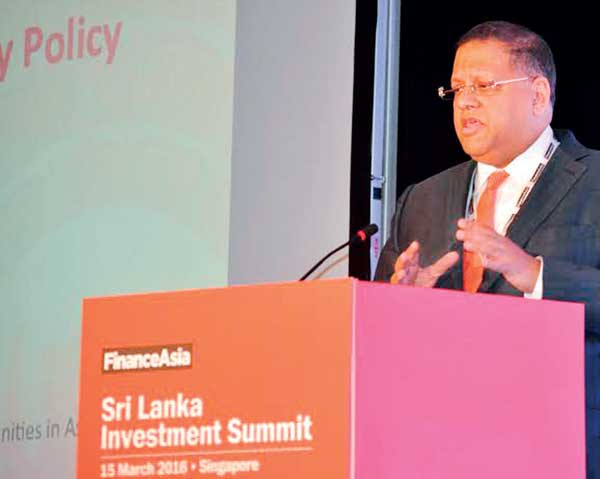 Sri Lanka expects to have an agreement with the International Monetary Fund (IMF) by mid April for a new funding arrangement, the country's Central Bank Governor Arjuna Mahendran told a recent investment forum in Singapore. This would be the second time Sri Lanka is seeking IMF assistance to come out from BoP difficulties in the post-war period, as the country received a US $ 2.6 billion bailout package in 2009-2011.
Since then, Sri Lanka's balance of payments position has been improving, not necessarily because of better fiscal management, but mainly as a result of lower global oil prices, which made a significant saving in the current account side. However, the acceleration of short-term capital outflows last year from the emerging and frontier markets such as Sri Lanka, with the US Federal Reserve hiking interest rates, have pushed the country's BoP position to a deficit. "And this is the principle reason why we started talking to the IMF and provide Sri Lanka with a safety net against further capital outflows," Mahendran said.
He further said the IMF facility would also trigger "a lot of" new lending from multilateral and bilateral sources such as the World Bank, the Asian Development Bank and the Japanese International Cooperation Agency (JICA).According to the latest Central Bank data, Sri Lanka's official reserves stood at US $6.5 billion by end February, while the government's foreign currency repayments in the next 12 months is estimated at US $ 4.5 billion. Sri Lanka saw a foreign outflow of around US $ 1.45 billion or 46 percent from the government securities since January 2015 on speculation over the U.S. Federal Reserve's interest rate hike.
The rupee, which slipped 9 percent, gained some ground since the Central Bank floated the currency on September, 2015 after heavily defending it. The Central Bank also raised key policy interest rates by 50 basis points last month and increased commercial banks' statutory reserves ratio by 150 basis points from January 16 to curb imports.
The worsening fiscal side prospects for the country prompted the rating agencies Fitch and Standard & Poor's to downgrade the country's sovereign rating and the outlook. Rating agency Moody's Investor Services in a report said that the recent US $ 700 million swap arrangement with Reserve Bank of India would help Sri Lanka's precarious BoP position for now, but stressed that recourse to such funding showed the massive weaknesses in the country's external front.