---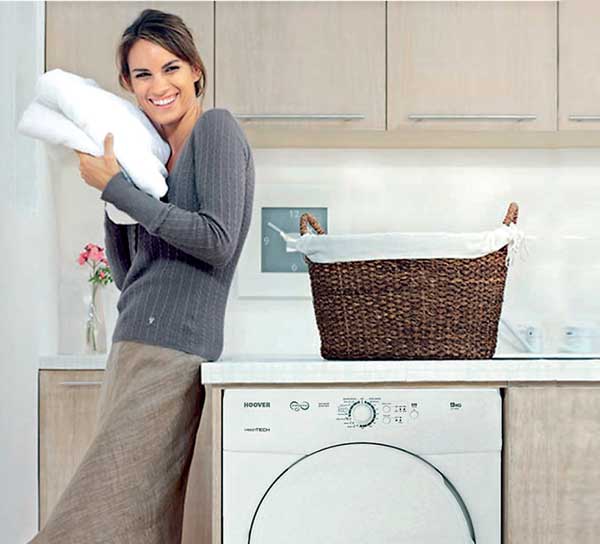 Traditional tumble dryers have a reputation of being basic, noisy and inefficient appliances, however the continuous growth in technological advancements has played a major role in the development of household appliances. Hoover's triumphant achievements with these innovative inclusions have made them a well-known brand globally and for many, a household name.

Hoover has left no room for complaints by effectively addressing the entire issues traditional tumble dryers have faced over the years and subsequently introducing newer, quieter and more efficient models into the market. Enriched with attractive features and unique programmes, Hoover tumble dryers have successfully redefined the experience of achieving professional laundry care in the comfort of your own home.

Often individuals debate whether dryers are in fact a smart investment choice with many still choosing to follow traditional drying methods such as the much-dated clothes-line. The efficiency of this however is determined purely on weather conditions which can be a gravely stressful task. Living in a world where weather patterns have changed drastically makes such traditional methods extremely unreliable, often leading to a strenuous outcome.

The stepping stone for tumble dryers in any household is the mere fact that consumers no longer fall victim to weather conditions in their locality and simultaneously it works towards eliminating the stressful task of drying clothes manually resulting in overall time efficiency. This is highly advantageous for consumers living in apartments where space is often limited and for working families where time is always of the essence.

The Hoover tumble dryer comes equipped with a range of features that produce a pleasant laundry experience to all its consumers. The Sensor Dry feature provides up to six levels of Automatic Sensor Drying which protects your clothes from over drying whilst at the same time saves electricity. This works by simply selecting the level of dryness required instead of guessing the drying time. The humidity sensors detect how moist your washing is and stops the machine entirely when it is dry.
Sensor Dryers are programmed to be eco friendly by only consuming the exact amount of power and heat required which also prevents any damage cause to the fabric due to over-drying concerns. A flexible range of drying temperatures also means the dryer can accommodate different fabrics that require different temperatures all in one go. Perfect laundry care is generated through the Unique Hydro Dry Technology which ensures there is no need to empty the water container as it is pumped out through the main water supply. This delivers performance and efficiency constantly for the entire lifetime of the appliance.

The super silent feature is more valued than one would expect it to be. A unique drying system makes the Hoover Hydro Dryer one of the quietest condensers in the market globally. Similarly the Fast Dry Cycles give consumers the flexibility of using a quick dry option for smaller laundry loads. Another beneficial feature available is the Fast Iron option which features a short heated conditioning cycle that helps relax stiff fabrics in turn making it easier to handle for quicker ironing.

Furthermore, the Refresh Cycle helps freshen up clothes by emitting cool air into the laundry stimulating the right balance of temperatures that stops garments from stretching when they are pulled out of the dryer. The cool air released also makes it possible to wear your clothes straight out of the drum.

The Delicate Wool Finish Cycle is a short gentle cycle that can be used to soften woolens after air drying or refresh clothes that have been stored in the wardrobe for a prolonged period of time. To make sure that clothes remain tangle free a highly efficient Reverse Action feature has been installed in the tumble dryer to provide quicker drying and less creasing. In addition to this a Filter Care Indicator alerts consumers when the fluff filter requires cleaning which helps maintain a professional laundry experience at home.

Visit your nearest Abans or Abans Elite Showroom Islandwide and make your smart investment today.