---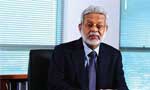 A local stockbroking firm with a foreign partner said in a report that the appointment of Thilak Karunaratne as the new Chairman of the Securities and Exchange Commission (SEC) will be beneficial for the country's capital market in the longer run.

Stock brokerage Bartleet Religare Securities (Pvt.) Ltd (BRS), a joint venture between Sri Lanka's Bartleet group and India's Religare Capital, said the return of Karunaratne, who is generally perceived a tough regulator, is likely to ensure better governance and transparency at the Colombo Stock Exchange (CSE).



"The regulator SEC is getting the tough enforcer Thilak Karunaratne back in the saddle as the new head. We believe this will be a move towards better governance and transparency in the CSE," BRS said.Karunaratne was first appointed as the SEC Chairman in December 2011, when the then Presidential Secretary's spouse Indrani Sugathadasa resigned from the post to 'uphold her principles'.


However, he was asked to resign by former President Mahinda Rajapaksa, who was also the then Finance Minister, just nine months into his Chairmanship, for supposedly antagonizing some high-net-worth investors and influential stockbrokers.When Karunaratne resigned, 17 investigations into market malpractice were on-going. His successor Dr. Nalaka Godahewa later said all or most of those investigations had been concluded.


The announcement of Karunaratne's return sent shockwaves among some capital market stakeholders due to his reputation for tirelessly going after market malpractices, at times even at the risk of upsetting the market sentiment.

However, BRS advised investors not to worry. "The market will take some teething pains in the short run, particularly with the retailers reacting to the changes, but over the long run we believe the CSE will be a more level playing field for investors," it said.In an earlier interview with Mirror Business, Karunaratne said his first priority would be to stabilize the market but that he would reinvestigate those cases following careful examination of what transpired in the market during his absence. Karunaratne is expected to assume duties at the SEC in a couple of days.