---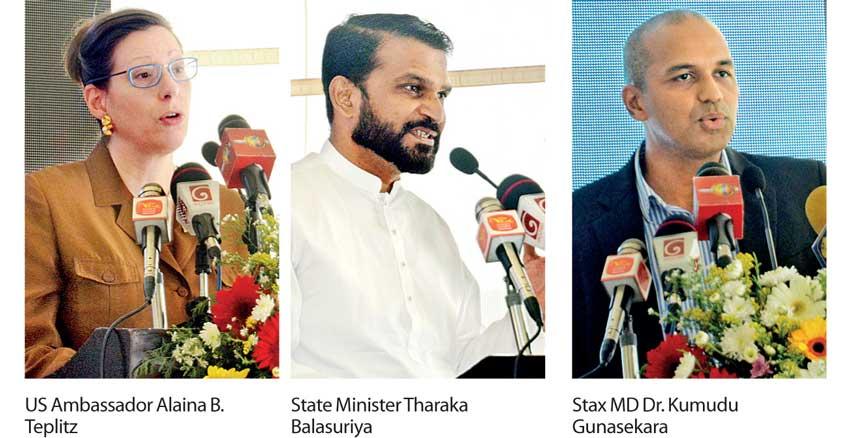 Aimed at making SL high-income country within 100 years of Independence
US firms have invested more than U S$ 300mn in Sri Lanka over the years
By Shabiya Ali Ahlam
In an effort to make Sri Lanka a high-income earning country within 100 years of Independence, the international development agency of the United States yesterday pledged its support launching the Sri Lanka@100 initiative that is expected to contribute to the ongoing efforts of the island nation achieving equitable and inclusive growth.

To ensure this aspiration is reached by 2048, US government's international development agency, USAID, will fund the initiative that will help realise the aspiration by focusing on mid-market firms and adhering to the values of inclusivity and excellence.

Administered by global strategy consulting firm, Stax, the Sri Lanka@100 is an ecosystem that would pave the way for mid-market firms to thrive and create value by focusing on; building next generation business, optimising operations, achieving revenue growth, and improving
access to smart capital.

The ecosystem would consist of trusted vendors and partners who can provide services and bring innovative ideas to the table to help mid-market firms grow. General business interest organisations included in the ecosystem are industry bodies, banks, chambers, state-affiliated organisations, and training/ professional skill building institutions.

Speaking on the relevance of the initiative, US Ambassador to Sri Lanka and the Maldives Alaina B. Teplitz said that via strong commitment, the vision of making Sri Lanka a high income nation, where all citizens have the opportunity to realise their aspiration, can be fulfilled. "I believe that we will see a robust mid-market sector that will grow rapidly and help strengthen the ties between SME businesses of both nations. As an ambassador, strengthening private sector ties is one of the top priorities for me," she said at the launch event that was held in Colombo yesterday.
Teplitz shared that over the years, US companies have invested more than U S$ 300 million in Sri Lanka, generating hundreds of high-end, high quality jobs in industries ranging from manufacturing to IT business services and nearly everything in between.

She stressed that the US government prioritises working with the private sector and with local enterprises that support long-term growth and shared prosperity for both the countries since it is acknowledged that it is the private sector that has the greatest potential to create economic opportunity for all Sri Lankans and propel this country to high-income status.

Further, Teplitz pointed out that the US is on the "constant" lookout for new opportunities and ways to connect American businesses with Sri Lankan partners that attract foreign investment.

"We call this economic diplomacy. And it is about much more than increasing trade statistics. It means opening new and untapped markets. It means identifying opportunities for small and medium enterprises. It means promoting opportunities for women entrepreneurs and other socially excluded groups. And it means improving the lives of Sri Lankans," she said.

According to Stax Managing Director and Co-Founder of SL@100, the platform in particular would support businesses in underserved segments.

"We are incredibly resilient as a people, as a nation. Our SME owners and entrepreneurs have weathered many storms to stay afloat. This platform is about helping them to now really power full steam ahead with ambitious growth plans, and about taking Sri Lanka's development to the next level," he said.

Meanwhile, echoing similar sentiments, State Minister of Regional Cooperation Tharaka Balasuriya endorsed the initiative stating that programmes of similar nature would assist local businesses to fulfill their potential in an increasingly competitive environment, which will play a large part in the economy's post-Covid recovery. Sri Lanka@100 is now accepting applications from mid-sized firms that are seeking support for rapid growth. You can find the eligibility criteria, application process, and deadlines on the SL@100 website (www.srilanka100.lk) and via Facebook (srilanka.at.100) or LinkedIn (srilanka100).