---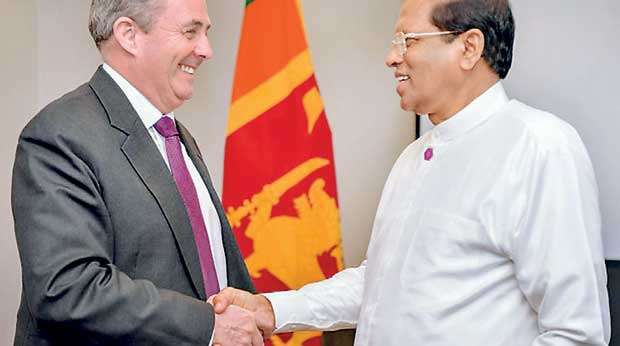 Liam Fox (left) greeting President Sirisena
The UK Secretary of State for International Trade Liam Fox has said that Britain is ready for direct investments in Sri Lanka while increasing its existing investments in the country. According to President Maithripala Sirisena's media division, the British government will take necessary measures in this regard in the near future.
President Maithripala Sirisena who is in London to attend the Commonwealth Heads of Government Meeting (CHOGM) 2018, met Fox on Wednesday.

Discussions were held in detail regarding further strengthening the bilateral relations between the two countries to expand new trade and investment opportunities.

UK's International Trade Ministry website has quoted Fox as saying steps would be taken to include the new investment opportunities in Sri Lanka.
President Sirisena speaking further said that there has been an increase in foreign investments in Sri Lanka and significant progress has been made in the tourism sector too. The friendly foreign policy of his government has made it possible to achieve victories for the motherland, the President added.

President Sirisena expressing views on new investment opportunities in Sri Lanka said his government has paid special attention regarding the new investment opportunities in the power generation sector, and also has given priority to the agricultural and livestock sectors.

He also appreciated the constant cooperation provided by the British government towards Sri Lanka's development.