---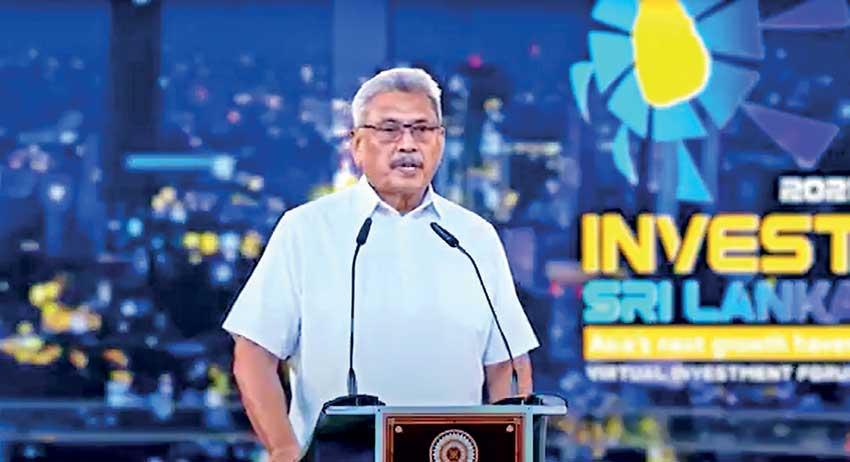 Gotabaya Rajapaksa
Stresses need for investments to allow SL double GDP per capita by 2030
Highlights govt. is proactive and pro-business
Says as President he will ensure required changes are made to already attractive environment
Shabiya Ali Ahlam
The Government of Sri Lanka yesterday went all out to lure investors by showcasing a series of unique selling propositions while making a number of pledges, which included the affirmation of attractive and sustainable returns to those who are willing to take the plunge by investing in the country, in its current position.

Sri Lanka yesterday hosted its first virtual investor forum, an event held to showcase the opportunities the nation has to offer to global investors across the world.

President Gotabaya Rajapaksa, who inaugurated what the organisers called the country's largest virtual investor forum held to date, stressed that the event comes at an important time as plans are afoot to "unleash a decade of transformational and rapid economic growth", which is to double the national output from its current level to US $ 8,000 GDP per capita by 2030.

While calling on the world to invest in Sri Lanka's promising potential, President Rajapaksa pledged that his government is prepared to make the country investor-friendly.

"The Government of Sri Lanka is proactive and pro-business. We will look very favourably upon investments that can have a transformative impact on our economy as well as our national profile and we will do our utmost to create an enabling environment for the success of such investments," assured Rajapaksa.

He elaborated that the country stands on the "cusp of a national transformation" that can not only help uplift Sri Lanka but have positive impacts on the entire region while creating tremendous value for investors across multiple sectors and through diverse instruments.

President Rakapaksa averred that the government is "deeply committed" to maintaining policy stability and consistency within a stable macroeconomic environment.
He pointed out that the legal and regulatory frameworks are being refined to ensure greater responsiveness, transparency and security for investors.

Furthermore, unnecessary bureaucratic red tape is being removed and procedures are being streamlined to ensure greater ease of doing business, he said.

"As President of Sri Lanka, I am determined to see these changes through and to further improve our already welcoming environment for investment.

There are significant opportunities across many economic sectors in Sri Lanka that can provide tremendous returns to foreign and local investors alike," assured Rajapaksa.

According to the President, the areas Sri Lanka looks to attract investments are tourism, education, agriculture, healthcare, IT and energy.

The three-day virtual investor forum has been conceptualised to allow potential investors to be able to connect directly with the policymakers at the highest level, in addition to technical experts, project owners and potential partners, who are willing to contribute to the investment ambitions of the country.