---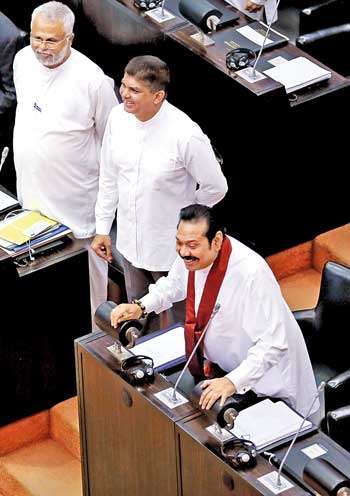 (Colombo) REUTERS: Sri Lanka's newly appointed Prime Minister Mahinda Rajapaksa, who lost two motions of no confidence last week, may lose his government's budget even as he clings to power.

Lawmakers opposed to Rajapaksa said they intend to remove funding for staff salaries and other costs in a vote on November 29. The opposition, which regards his administration as illegitimate, will also seek approval to slash the government's overall budget, they said.

It was the latest of several new twists yesterday in the political chaos that has embroiled Sri Lanka for the past few weeks. Leaders of political parties backing Rajapaksa and President Maithripala Sirisena refused to allow a third motion of no confidence to be held through name call or electronic voting yesterday.
The previous two motions passed through a voice vote but Sirisena said they hadn't followed the proper procedures.
Sirisena appointed Rajapaksa last month after firing Ranil Wickremesinghe as prime minister, setting off the political turmoil on the island off India's southeast coast.
Rajapaksa is seen as a close ally of China, though Beijing has denied accusations that it was instrumental in getting him appointed.

Dinesh Gunawardene, a Rajapaksa loyalist, said Wickremesinghe's coalition had handed a motion "to suspend all government expenses" to the Speaker and Parliament Secretary.

"According to the previous no-confidence motions, both Rajapaksa and his government are out. There is no government, but there are MPs," M.A. Sumanthiran, a lawmaker who had voted for the no-confidence motion, told Reuters.

"The finance of the country is under the control of Parliament. Now we have proposed a motion to stop government finances for the prime minister's office," he said.
Deputy Speaker of Parliament Ananda Kumarasiri established a select committee to carry on parliamentary business before adjourning the house to November 23.
Unlike last Thursday and Friday, there were no physical altercations on the floor of Parliament yesterday. On Friday, the lawmakers supporting Rajapaksa threw books, chili paste and water bottles at the Speaker to try to disrupt the second vote.

Speaker of Parliament Karu Jayasuriya said in a statement that investigations have begun into Friday's events, including damage that was done to public property in the melee.

The political crisis has hit the economy. Yesterday, the rupee fell to a record low of 177.20 per dollar. Foreign investors have pulled out more than Rs.30 billion rupees since the crisis unfolded on October 26.

Wickremesinghe loyalists allege that Rajapaksa's party is trying to buy lawmakers for as much as US $ 3 million each. Rajapaksa loyalists have rejected the allegation.

Both Sirisena and many Rajapaksa loyalists have said they have the majority in Parliament. However, the no-confidence motion against Rajapaksa and his government was passed twice by 122 votes in the 225-member Parliament.

Most foreign countries, including Western nations, have yet to recognise Rajapaksa as the prime minister.

Last week, eight Western countries stayed away from a meeting with the government to register their protest against Sirisena's decision to dissolve Parliament.