---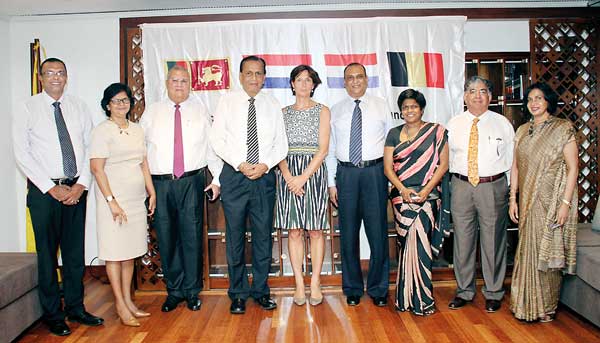 The Ambassodor posing for a group photograph with members of the Sri Lanka Benelux Business Council
By Shabiya Ali Ahlam
Attempting to strengthen ties with 'old friends' using 'new trends', top Netherlands envoy to Sri Lanka stated much efforts are being taken to further develop relationships between the two nations while ensuring the win is not one sided.
Ambassador of Netherlands in Sri Lanka Joanne Doornewaard while speaking on behalf of the Benelux Business Council in Colombo said: "The Netherlands has confidence in the current Sri Lankan business climate. In fields such as agriculture, health and water management, cooperation has been intensified. We strive for further development of this relationship together with you (Sri Lankan businesses)."

Pointing out that in terms of Foreign Direct Investments (FDI) the Netherlands is one of the largest investors in the island nation, she highlighted that Dutch companies do not only invest, but also work closely together with their Sri Lankan colleagues. In a bid to make certain the Dutch - Sri Lankan trade is more balanced, local business were encouraged to explore agricultural products, logistics, and water management, areas where the Netherlands has successfully emerged as a world leader, to improve the import rate.

It was also pointed out that Sri Lankan businesses are provided with a greater opportunity to serve the Dutch market with the economic stance of that county having improved and likely to continue to do so after a years of economic turmoil owing to the global financial crisis.

"The Dutch economy is recovering since 2014 and is expected to improve even more in the upcoming years. Employment is increasing and a growing consumer demand is leading to higher imports. Moreover, Sri Lanka has become a very popular destination for Dutch tourists. Last year showed an increase of more than 35 percent of Dutch tourists visiting Sri Lanka. All of these factors provide opportunities for Sri Lankan businesses," noted Doornewaard. Pointing out that the economic progress of Sri Lanka implies increasing productivity, which in turn includes challenges, possible areas of concerns were shared.

"Key challenges include enhancement of the private sector, inclusive growth, proper waste disposal facilities and respect for Sri Lanka's beautiful nature and boosting investments in human capital," she said while highlighting that the Sri Lanka – Benelux Business Council is able to play a greater role in the enhancement of the private sector and the boosting of exports to Benelux.